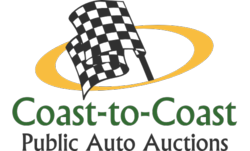 Every Saturday is Wholesale Public Auto Auction Day.
Tampa, FL (PRWEB) July 11, 2012
Coast to Coast Public Auto Auctions has teamed up with Proxibid to offer online bidding on wholesale vehicles to the general public as well as auto dealers.
Proxibid is a host site for auction companies and teaming up with Coast to Coast will allow for people to shop for a wholesale vehicle from the comfort of their home, office, or virtually anywhere.
These live and simulcast auto auctions are broadcast in more than 100 countries giving both the sellers of vehicles and buyers, greater access, and a fun, professional, safe environment.
Coast to Coast has included a "Test Drive" link on their website where potential buyers can see a short video walk around of each vehicle up for auction each week. This will enable buyers to get a full look of the vehicle not just a picture. These videos will show key features both good and bad about a vehicle allowing consumers a chance to buy an auto with confidence.
It is suggested that people check the website on Thursdays or Fridays as that is when most of the vehicles come in, get registered, and are put up for the Saturday Weekly Auto Auction.
Potential online buyers should register with Proxibid early during the week and should be able to view the online auction catalog by early afternoon on Fridays.
Of course, if someone still likes to touch and feel the cars, Coast to Coast Auto Auctions is open to the general public and auto dealers. These Auto Auctions can be seen live Every Saturday 10:00 am with previews starting at 8:30am. Registration for the live auto auctions will be at 2649 Causeway Center Dr. Tampa, Florida 33619 and will be done the morning of the sale.