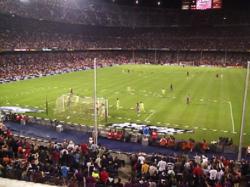 FC Barcelona remains one of the most popular football teams in the world right now and despite the poor economy in Spain, tourist numbers to the city are incredible
(PRWEB) July 12, 2012
The dates of the "clasicos", the clashes between FC Barcelona and Real Madrid, were decided on Tuesday when the Spanish Football Federation drew the fixture list for the forthcoming Spanish League.
FC Barcelona and Real Madrid will face each other for their first league clash at the Nou Camp in October, but football fans are in for a real treat as the bitter rivals will face each other in August when they compete two more "clasicos" for the Spanish Supercup.
This competition is played between the winner of the Spanish League and the Copa del Rey title holder. Barça and Real Madrid also clashed last summer in the Spanish Supercup, when Jose Mourinho made headlines around the world after gouging the eye of Tito Vilanova, then Pep Guadiola's right hand man now the team boss.
David Leigh of Simply Barcelona Tickets says, "It promises to be another fantastic season as Barça go head to head with Real Madrid once again for the league title. FC Barcelona remains one of the most popular football teams in the world right now and despite the poor economy in Spain, tourist numbers to the city are incredible. That all adds up to a lot of demand for tickets still."
Vilanova was closely associated with Guardiola throughout his four-year reign at Barcelona as his right hand man has been credited with much of the success of the Guardiola era. The biggest matches of the year are the "clasicos" against Real Madrid, which will take place on 6/7 October at the Nou Camp, with the return on 2/3 March, and draw enormous television audiences worldwide. You can see FC Barcelona's fixture list for the 2012-2013 season on Simply Barcelona Tickets' website.
David Leigh is the owner of Simply Barcelona Tickets, a leading provider of tickets for FC Barcelona. You can order tickets from the website, or sign up for the free weekly newsletter. For more information, visit http://www.simplybarcelonatickets.co.uk.