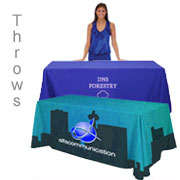 High quality, low cost tradeshow accessories
Fort Myers, FL (PRWEB) July 17, 2012
Trade show season always puts a demand on the tradeshow accessories. Custom printed table cloths, counters top displays - monitor stands & kiosks - trade show lighting fixtures - literature racks - to name a few of high demand items. The prices on all trade show accessory items have been lowered before the season rush.
Daniel Lacourse of Anything Display said, "We encourage customers to order early to avoid back-orders or sell-outs on popular items. This has happened during the peak demands of tradeshow season." He concludes, "As an online tradeshow supplier we are subject to the whims of the marketplace which can become quite demanding during tradeshow season."
Anything Display ships their high quality, low cost tradeshow accessories all over the country. Fast turn-times and great prices makes Anything Display a leader in the tradeshow supply industry.
About Anything Display - A privately owned company based in Fort Myers, Florida, Anything Display is an online tradeshow supplier - product offerings include Trade show banners, tradeshow booths, hanging banners, trade show accessories, and much more ... Serving clients in all 50 states and Canada across multiple industries.
For more information call 239-433-9738.