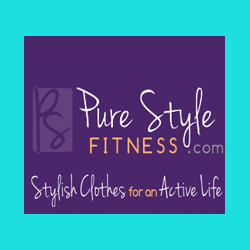 Chicago, IL (PRWEB) July 11, 2012
Pure Style Fitness has added the latest summer line by Green Apple. Green Apple is an eco-friendly, yoga apparel company. This new summer line is full of bright new colors, including Boysenberry, Ripe Papaya, Sparta Blue, Raw Turquoise and Wet Slate. These hip new styles are tribal inspired with unique swirls or stripes added for appeal.
Pure Style Fitness relishes in the fact that it hand-picks it selective line of clothing. Making sure they are fashion forward, high quality, built for support and comfort and keep the active women moving in style.
Although, Pure Style Fitness focuses on fitness and yoga apparel for women, they have a line of casual wear that is transferable from the gym to the streets. Most of all the items offered by Pure Style can be worn from gym to street, but the Pure Casual line is geared to providing every day wear that is made of the flexible workout material. The Bliss Kimono Sleeve Tee is a part of the new Green Apple summer items at Pure Style Fitness that is found in the Pure Casual line. It is lightweight and great for layering.
About Pure Style Fitness: Pure Style Fitness originated as a way to provide women with the latest in stylish fitness, yoga and athletic casual wear. Along with their Pure Fitness, Pure Yoga and Pure Casual lines, Pure Style Fitness has a Pure Maternity line for an active pregnancy. A small, yet growing area is the Pure Men line. Pure Style Fitness promotes the idea that an active life can be stylish and every day. Style doesn't need to end at the gym doorway.