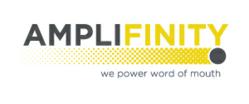 Brierley+Partners has some of the most loyal customers in the world. Amplifinity has the technology to help those customers become a powerful marketing channel. Perfect fit. -Richard Beedon, Amplifinity CEO
Ann Arbor, MI (PRWEB) July 11, 2012
Amplifinity, creator of AMP, the Advocate Management Platform, today announces that they have added Brierley+PartnersTM to their growing list of partners. Brierley+PartnersTM has created, managed and supported some of the world's most successful loyalty and CRM programs for globally recognized companies. Amplifinity identifies, grows, and nurtures a company's brand advocates through customer, employee and partner channels. The organic fit of loyalty programs and brand advocacy will allow Brierley and Amplifinity to forge highly integrated customer and employee programs for their clients.
"Brierley offers programs that build loyal customers – some of the best customers in the world. Amplifinity builds advocacy programs that leverage those customers and impels them to perform sales and marketing functions; we turn these people into a marketing channel," said Richard Beedon, Founder and CEO of Amplifinity.
"Brierley+PartnersTM is excited about the synergy that our two companies bring to the marketplace. The opportunity to partner with Amplifinity to ensure that our clients maximize their customer engagement opportunities while building their businesses is very exciting," said Jim Sturm, President and CEO of Brierley.
Amplifinity's new Partnership Program is quickly assembling the leading innovators in Word of Mouth and Brand Advocacy marketing and combining their capabilities to create the world's most powerful technology and services offering in the space.
About Amplifinity
Amplifinity is the Brand Advocacy pioneer and has consolidated the most effective Word of Mouth Marketing/Brand Advocacy methods into a powerful platform that allows companies to activate, nurture and grow their advocate base. Headquartered in Ann Arbor, MI, the company is backed by leading investors such as Early Stage Partners and RSVP Capital. Amplifinity is a proud member of the Word of Mouth Marketing Association (WOMMA). Information about Amplifinity can be found at http://www.amplifinity.com.
About Brierley+Partners
Brierley+Partners is a pioneer in customer Relationship Management®--advancing loyalty and CRM for more than 25 years. The company has designed and implemented some of the world's most successful loyalty and CRM programs for major clients: Express, GameStop, Hertz, Hilton, JCPenney, Sony and UPS to name a few. Brierley offers a complete suite of loyalty services: program design, loyalty/CRM technology, marketing strategy, research, analytics, creative, account management, interactive/print production and fulfillment. The industry-leading Brierley LoyaltyWare™ technology platform is uniquely robust, flexible and quick-to-market. All services focus on a single mission: Making clients' customer relationships dramatically more profitable.