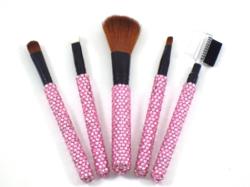 These crystallized products have attracted the attention of women of all ages who want their beauty supplies to be as glamorous as they are.
Las Vegas, NV (PRWEB) July 11, 2012
For women wanting to bring a little bling into their every day routine, Silverhooks.com is the place to go. The leading online women's accessories company recently released a new line of crystallized beauty products ranging from crystallized make-up brushes and cosmetic mirrors to perfume sprayers and nail files. These crystallized products have attracted the attention of women of all ages who want their beauty supplies to be as glamorous as they are.
Not only are the crystallized beauty products fashionable, but they are also highly functional. The inside of the crystallized perfume sprayers remove for easy filling of travel-sized body sprays and perfume bottles, while the stunning, crystal nail file is made with textured glass, making shaping and filing a breeze. The dazzling crystal make-up brush set features high quality brushes for smooth make-up application and includes a blush brush, a medium eyeshadow brush, an eyeshadow sponge, a lip brush, and a dual-sided brow brush and lash comb. After using the crystallized brushes to apply make-up, the sleek, dual-sided cosmetic mirror provides optimal viewing at home or while on the go.
According to the U.S. Department of Commerce, in 2011 over $4 billion were spent by consumers purchasing beauty products online. With growth in both Internet and beauty markets, Silverhooks.com has taken advantage of the opportunity to expand. "Being a woman, I want products that reflect my style, but a lot of items out there can be a little boring," said Silverhooks.com buyer, Stephanie Mai. "That is why I was really excited to introduce a new market to our customers by crystallizing everyday essentials such as make-up brushes, nail files, perfume sprayers, and cosmetic mirrors. Being an online company, we provide these products to women all over the world wanting to show off their style in a fun, glitzy way."
The crystallized trend has proven to be very popular. With tremendous consumer support of crystallized products and enthusiastic customer reactions, it is clear that crystallized products are not leaving the market anytime soon. In 2010, Silverhooks.com's crystallized pen was featured on the Home Shopping Network and sold more than 8000 in just a few minutes. "I have purchased a lot of crystallized items from Silverhooks.com. The rhinestones are so bright and dazzling and the products work so well!" said Silverhooks.com customer Jessie Jin. "I am especially excited about the crystal make-up brushes. I will definitely be buying them as gifts for my friends."
Founded in 2007, Silverhooks.com began as a retailer of purse hooks, ensuring women's purses stay clean and off the ground. Since then, the company has grown tremendously to also provide the highest quality women's bags and accessories from many popular designer brands including Big Buddha, Buxton, Calvin Klein, Lodis, and many more. Silverhooks.com is based in a 10,000 square foot facility in Las Vegas, Nevada and is a subsidiary of Trend Nation LLC. Silverhooks.com prides itself in supplying innovative and trendy accessories to help keep the modern woman safe, organized, and fashion forward. Visit the Silverhooks.com website at http://www.silverhooks.com.