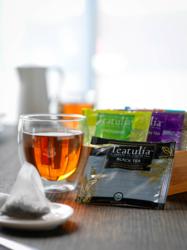 Denver, CO (PRWEB) July 11, 2012
Maybe a book can't be judged by its cover, but a lot can be learned about someone based on their beverage of choice. Whether it's coffee, wine, whiskey or tea, everybody has a preference on which variety of each "speaks" to them the most.
As tea has become more popular, the varieties one can choose from have not only grown in number, but they have gotten more exotic. Teatulia is a producer of artisanal organic teas and herbal infusions that are harvested from their own 100% organic single garden located in Northern Bangladesh, making new, unusual flavors available to the mainstream. With ten unique organic teas available including the Bengledeshi interpretations of traditional teas like Bengal Breakfast and Earl of Bengal, the Teatulia brand is being recognized as a pioneer in the specialty food and beverage market.
With so many distinctive tea varieties, how can someone tell which flavor profiles their palate will prefer? Teatulia's experts know how to determine the most suitable tea for anyone:

Black Tea: For the coffee-drinker of the tea world. The rich, full-bodied flavors of organic black tea are straightforward and to the point, reflecting the black tea drinker's assertiveness and ability to see the finer details that can easily escape their more distracted peers.
Neem Nectar Tea: Like their tea of choice, neem tea lovers are totally unique. Neem's bright, crispness has a cleansing effect on the palate in the same way the neem tea drinker's optimistic, free-spirited nature can uplift and brighten the mood in any room.
Green Tea: Those who prefer green tea are the fresh, calming energy that comes with a cup of their drink of choice.
They keep their cool even when things are crazy and demonstrate the ability to be genuinely thoughtful without over-thinking things, creating a relaxed, welcoming atmosphere for those around them.
Tulsi Infusion Tea: This is the perfect balance of spicy and sweet, not unlike the utterly charming people who prefer it. They know how to get what they want from just about anyone by bringing the right amount of spunkiness to balance an otherwise mysterious persona, setting them apart from everyone else in the crowd.
Teatulia's organic teas can be found in specialty and other retail stores across the United States. For more information and to purchase Teatulia's neem nectar tea visit http://www.teatulia.com
# # #
EDITOR'S NOTE: For more information about Teatulia, or to speak with co-founder Linda Appel Lipsius, please contact Nancy Trent or Pamela Wadler at (212) 966-0024.