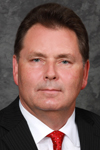 David's move to our Orange County office significantly strengthens our firm's coast-to-coast capabilities.
Orange County, CA (PRWEB) July 10, 2012
Haynes and Boone, LLP has expanded its Orange County corporate practice capabilities with the addition David Hayes as a new partner, focusing on companies in need of counseling on in a wide range of transactions and industries including, intellectual property transactions, mergers and acquisitions, collaborations, joint ventures, outsourcing, licensing, distribution and other deal-related work.
His industry experience covers a wide variety of areas including life science, medical device, computer hardware, semiconductors, software and information technology and outsourcing, among others.
"David's move to our Orange County office significantly strengthens our firm's coast-to-coast capabilities," said Greg Samuel, chair of the Haynes and Boone Corporate Section. "His deep background in multiple industries will be an asset to our clients. We are very excited to welcome him to our firm."
Hayes' practice includes extensive experience in advising clients in connection with intellectual property protection strategies and all aspects of life science, medical device and high technology transactions including the acquisition and protection of intellectual property, research and development transactions, commercialization of intellectual property assets, celebrity endorsement, advertising production, trademark licensing, mergers and acquisitions, financing as well as on the buying, selling, leasing, distribution, licensing and development of high technology products and services.
Hayes advises clients on agreements including co-promotion, distribution, technology-related professional services, semiconductor supply, system integration, software and hardware maintenance and disaster recovery. His work includes acquisitions involving high technology targets and computer system sales and acquisitions. He assists clients with intellectual property protection programs and copyright and trademark registration prosecution.
Prior to practicing law, David was a computer programmer and software engineer for a major utility company where his responsibilities included research into various state-of-the-art technologies in connection with the development of the company's computer system architecture.
Hayes is an active member of the Dean's Leadership Circle at the University of California, Irvine, American MENSA and the State Bar of California Intellectual Property Section on the Computer Law Committee.