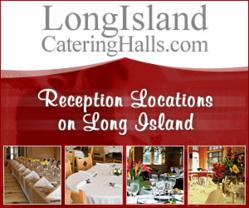 For party planners and brides-to-be on Long Island, organizing an extravagant affair can be hassle-free with the newly updated LongIslandCateringHalls.com – a free resource that makes finding the perfect venue and services for events easy and efficient.
Kings Park, NY (PRWEB) July 20, 2012
LongIslandCateringHalls.com helps locals orchestrate the perfect parties, special events, and weddings with their newly developed interactive planning tools and resources.
Launched in 2008, LongIslandCateringHalls.com has quickly become one of Long Island's most trusted resources for brides-to-be and party planners looking to coordinate gatherings ranging from elegant affairs to extravagant banquets and celebrations. LongIslandCateringHalls.com was created by the team at Long Island Media, and their experience and local knowledge truly shines through in this easy to use, comprehensive party planning resource.
When it comes to searching for services and venues, it simply could not be easier to find what the perfect party solutions – LongIslandCateringHalls.com has just added a tool that enables users to search by area, venue type, or provided services. Once a user creates a free account, they are able to bookmark and compare businesses and round down the choices, enabling visitors to keep track of all of their options.
Long Island is notorious for its countless gorgeous estates and venues, making it no surprise that locals love to throw lavish parties – especially when it comes to Weddings, and other Milestone Events. With the seemingly endless possibilities for venues and professional party services, Long Islanders have been in desperate need of a resource has the up-to-date information, reviews, advice, and professional insights necessary to make informed decisions – and the answers they've been looking for can now be found easily at LongIslandCateringHalls.com.
Not only does LongIslandCateringHalls.com bring together the information necessary to plan a one-of-a-kind affair, but it provides insights on how to put together a special event, no matter what the occasion. With tips on planning everything from dream weddings, to holiday parties, reunions, and everything in between - LongIslandCateringHalls.com has two newly updated sections, Articles and Event Planning Guides, dedicated to helping Long Islanders get just what they want out of their big day.
LongIslandCateringHalls.com is the quintessential planning tool for locals looking to throw the bash of a lifetime with its constantly updated and comprehensive information. For anyone looking to plan a wedding or party on Long Island, this resource will prove to be priceless from first click.
Contact:
Gene Confredo
info(at)longislandcateringhalls(dot)com
278 Indian Head Road
Kings Park, NY 11754
631-850-4793