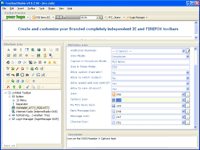 Transform and tweak the latest version of this toolbar builder with a choice of plug-ins.
Alexandria, VA (PRWEB) July 11, 2012
Customer engagement is one of the most important trends when running a business online. One of the fastest ways to increase website appeal, drive traffic to a website and increase revenue is to create a fully customized toolbar that streamlines and targets the users Internet needs, while providing the latest in social media technology.
Besttoolbars provides everything needed to create and transform a toolbar or add-on with their already versatile toolbar builder. With over 10 years experience in building toolbars for some of the top names in e-commerce, their Toolbar Studio has been enhanced to offer even more features and benefits, including their newest addition of a Twitter widget which allows instant access to one of the largest social media platforms - with just one click of a button. Transform and tweak the latest version of this toolbar builder with a choice of plug-ins. There are over 25 plug-ins available, including RSS readers, and virtually any macro or command one could want.
Construct a toolbar in the Toolbar Studio that will enhance the user's experience while keeping control of it all in one easy to use, interactive platform. The users' time on the Internet will be more rewarding since they will have access to fully customized features, thus providing the user with all-inclusive tool that's as interactive as it needs to be. With options like instant desktop alerts, one business can be managed from a central toolbar internally within an organization or externally for consumers and clients.
There is now no need to hire separate developers to build a toolbar, develop plug-ins and add-ons, creating additional costs. Besttoolbars offers virtually any programming solution with the creation of one snippet of code. Brand your logo, offer advanced search options, monetize, and provide fun user-features like a radio player, real-time weather forecasts, and now, with the introduction of a Twitter widget, the user can be fully engaged by design. To learn more about the newest version of this comprehensive toolbar builder and what Besttoolbars can do for your business, visit Besttoolbars website.
About Besttoolbars:
Formed in 2003, Besttoolbars is known as the leader in toolbar software. Besttoolbars focuses on browser toolbar, add-ons and extensions solutions and also offers a toolbar and add-ons frameworks. Besttoolbars has created desktop products for leading companies. More than 7000 companies worldwide use Besttoolbars solutions.