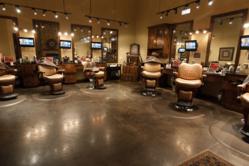 The Preston Hollow club is 50 percent larger than the Frisco location
Dallas, TX (PRWEB) July 10, 2012
The Gents Place Men's Fine Grooming is pleased to announce the opening of its newest club in the Preston Hollow area in Dallas, TX. The club opens its doors to clients on July 25, 2012, with a grand opening party scheduled for mid-August.
The Preston Hollow club is the third Gents Place location, and it arrives in the wake of the enormous popularity of the existing locations in Frisco, Texas and Leawood, Kansas.
"If you're looking for a nice relaxed atmosphere and a place to enjoy and adult beverage while having your hair cut, shoes polished or getting a massage, then you need to drop by the Gents" said a client that frequents The Gents Place's Kansas City club in a Yelp review.
The Preston Hollow club is 50 percent larger than the Frisco location. The facility features a private boardroom and meeting area available on a complimentary basis to its members, a spacious cigar smoking patio, an expanded retail boutique offering items ranging from exclusive men's grooming products to luxury men's watches, and a deluxe private shower for clients who hate how hair often lingers after a grooming service. The club also offers many upgraded amenities such as a lush dual "foot repair" station and a more spacious reception area with leather lounge chairs. There's even a custombuilt self-serve "grooming station" with copper sink in the front that allows men to sample skin and hair care products before buying.
The Gents Place Preston Hollow caters to the industrious businessman with its expansion of hours. It opens at 7 am Monday through Friday with appointments available 24/7 online at http://www.thegentsplace.com/bookonline.
About The Gents Place
Founded in 2008 by Ben Davis, a frustrated guy who hated getting his haircut, The Gents Place offers men's grooming and lifestyle products and services in a masculine, yet relaxed country club type environment. They specialize in premium men's hair services (including men's hair color,) hand and foot repairs, straight razor shaves, massages, shoe shines and more. Frequently referred to as America's Premier Men's Grooming and Lifestyle Club with locations in Texas (Dallas, Frisco) and Kansas City (Leawood), The Gents Place is known for its commitment to client service and top shelf amenities.
To learn more about The Gents Place, visit http://www.thegentsplace.com