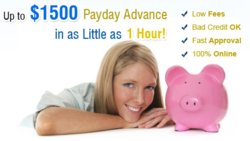 We invite customers to visit BadCreditCashAdvance.org and complete the brief loan application form online to get closer to that extra $1,500 with no credit check and no delay
Atlanta, GA (PRWEB) July 11, 2012
BadCreditCashAdvance.org, the U.S based lender introduction website, announces its new service and contribution to the cash advance industry.
The company assists those with bad or good credit that need quick solutions and short-term cash by directing their application to a special panel of lenders. The consortium of lenders devotes its energies to assisting borrowers with low credit scores, making it the ideal referral point for customers in those categories.
Through the new BadCreditCashAdvance.org system, thousands of customers can find relief to their short-term money worries. Many will receive approvals and a maximum of $1,500 within a one hour timeframe.
It is thought that the company's service will appeal to individuals in receipt of a regular paycheck that simply need a little extra cash to stretch until next payday. With its online application and bank transfer automatically set up to repay the loan, the company believes that its timesaving and convenience potential will rank it highly with clientele.
A company spokesperson for BadCreditCashAdvance.org explained why their new service offers an important level of accessibility to so many Americans.
"It is a huge step ahead for the cash advance online world for BadCreditCashAdvance.org to be able to say to customers, "Come to our website to apply for an instant cash advance" and really mean it is instant. We are proud to announce that from landing on our website, to filling of the short form and receiving approval, the cash can hit a customer's account within 60 minutes."
He continued, "One hour is less time than it takes to get in your car, drive to the city, find parking, go inside a bank or loans company and fill in a bunch of longwinded forms. Up until now, customers faithfully did that with no guarantee of light at the end of the tunnel and often having their applications bounced. We at BadCreditCashAdvance.org have conducted extensive beta testing and have scored exceptionally highly on the approval rate side. This means that there is a very high chance one our lender network members will want to lend that $1,500 to you."
With the average bank transfer taking 3-4 days with other companies and the median time for loan agreement forms to be countersigned being something like two weeks, BadCreditCashAdvance.org became frustrated by the lack of alternative options being made available to U.S individuals who may have poor credit scores, not be eligible for bank loans and not have time to wait for answers.
The spokesperson continued, "The uncertainly and the waiting period after a standard loan application is the real killer for many Americans who have red letters building up; utility bills to pay, cars needing gas and kids needing new shoes. Those bills and expenses do not wait – so why should you? Take the power back from many unsecured loan companies who do not place your needs higher than theirs. We have formulated a real "expressway" to fast loans for customers who really need a little bit of extra money, quickly and with no questions asked."
"We invite customers to visit BadCreditCashAdvance.org and complete the brief loan application form online to get closer to that extra $1,500 with no credit check and no delay."
To apply go to http://www.badcreditcashadvance.org/cash_advance_app.php