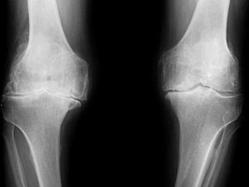 Miami, FL (PRWEB) July 19, 2012
"Osteoarthritis of the knee is now being treated with regenerative medicine at the center for regenerative medicine," according to A.J. Farshchian MD an orthopedic regenerative practitioner at the center for regenerative medicine.
Knee pain is the most common condition seen at The Center for Regenerative Medicine, with 90% of the patient load being some type of knee pain, top ten etiologies of Knee pain treated are:
#1 Osteoarthritis
Osteoarthritis is by far the most common cause of knee pain seen at The Center for regenerative Medicine.
#2 Tear of Meniscus
Typically caused by a sudden twist of the knee, is also very common, seen mostly in athletes.
#3 ACL Damage
This is typically caused during Sports events.
#4 Obesity
Obesity is a common problem in USA. It is estimated that a majority of obese people develop knee pain.
#5 Chondromalacia
Chondromalacia is softening of the cartilage behind the knee cap.
#6 Baker's Cyst
Typically accompanies Osteoarthritis, This is a painful swelling behind the knee.
#7 Osgood-Schlatter Disease
Osgood-Schlatter disease is a condition seen mostly in adolescents male.
#8 Osteochondritis Dissecans
Osteochondritis dissecans also a condition seen in young people.
#9 Gout
Did you know Gout could be avoided by being on a special diet.
#10 Pseudogout
This is not very common, this condition is different from Gout and therefore diet alone is not helpful.
The Center for Regenerative Medicine in Miami, Florida concentrates on helping arthritic and injured people to get back to a functional level of life and their activities using non-surgical techniques and Orthopedic medicine. The center's expertise is in treatment of conditions of spine, knees, shoulders and other cartilage damages. They have developed non-surgical and rehabilitation techniques focused on treatment and management of joint pain. Their team includes health professionals organized around a central theme.
Their website is http://www.arthritisusa.net