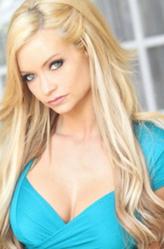 Robinson states, "Your 15 minutes of fame can't start until you make it happen."
San Diego, CA (PRWEB) July 11, 2012
Mindy Robinson is a part of the celebrity team hosting 15minutesNOW.com, an entertainment competition website where performers showcase their best skills and talents in daily competitions. Star performers are announced each day through host videos showcasing their talents and a world of viewers are rewarded for voting for the performances they deem the best. Sexy, talented and funny, Robinson joins David Hasselhoff for a new opportunity to revitalize the way performers find fame.
Proud to be joining 15minutesNOW.com along with lead host David Hasselhoff, Robinson states, "Your 15 minutes of fame can't start until you make it happen." Along with Hasselhoff, she announces performers, entertains viewers and motivates those looking to make it big.
Robinson is originally from Fall River, MA. She is known for performing stand up comedy, modeling, and acting in and around Hollywood, CA. She is featured currently on FOX's Take Me Out with George Lopez. She has also appeared in several movies like The Haunting of Whaley House, American Lie, and more. She has also played herself on Excused, Millionaire Matchmaker, Who Wants to Date a Comedian, Tosh.O, Mark Wright's Hollywood Nights and Guinness Book of World Records Gone Wild.
Ed Foster, CEO of 15minutesNOW.com states, "Mindy's witty personality makes her an ideal host for our performers and voters." Robinson's daily videos can be found on http://www.15minutesNOW.com and on Facebook: https://www.facebook.com/15minutesNOW
About:
Premier Entertainment and Productions, Inc., a San Diego-based company, started 15minutesNOW.com in 2012. 15minutesNOW.com is a dynamic website where performers have the opportunity to be seen, compete, and ultimately fulfill their dreams on a virtual stage in front of the ultimate judges – a world of viewers that are rewarded for voting. "15Minutes" came from a play on Andy Warhol's quote "in the future everyone will be famous for 15 minutes," and "NOW" is about offering performers the chance to shine virtually in real time.