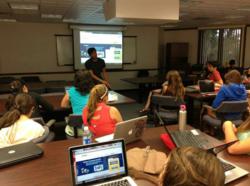 Gainesville, Fla (PRWEB) July 11, 2012
Callahan Fore became a social entrepreneur at age 16 when he founded a volunteer website called SweatMonkey in 2006.
On Monday night, Fore recounted his journey to 40 upcoming high school juniors and seniors who are attending the UF Young Entrepreneurs for Leadership and Sustainability summer program at the University of Florida.
Fore credits the YELS program, which he attended in 2007, for helping develop his idea, which has since expanded and re-launched as NobleHour.com, a comprehensive platform for civic engagement measurement.
Using NobleHour, non-profit and for-profit organizations can share volunteer, job, and internship opportunities for free. It is also free for any student or individual to find opportunities and track their service. In addition, for a nominal fee, any organization can access content, member, and volunteer management tools focused on measuring civic engagement.
"At NobleHour we emphasize affordability because we want any organization, no matter their size or budget, to be able to measure the impact they make in their community," said NobleHour's Director of Marketing, Pia Simeoni.
The YELS program will use the platform to track and evaluate the impact they create in Gainesville, Fl. As part of the five-week program, each student serves more than 80 community service hours through a variety of opportunities. Some students will remove evasive species in local gardens, while others will tutor low- income children. Additionally, YELS students complete two college-level courses - "Exploring Entrepreneurship" and "Social Problems & Solutions". The service they complete is supplementary to the lessons they learn.
Fore's discussion kicked off a week of lessons and service focused on entrepreneurship, inspiring the students to act on their dreams and "be the change they wish to see in the world."