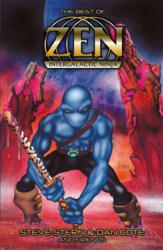 "We look at this anniversary as the start of the next twenty-five years of Zen," said co-creator Steve Stern.
Los Angeles, CA (PRWEB) July 12, 2012
"It was 25 years ago that Dan Cote and I self-published 'Zen Intergalactic Ninja' #1 up in Auburn, Maine," said Steve Stern. "That book was a labor of love, especially for Dan, who spent nearly two years airbrushing the art."
Cote said, "Little did we think that our homegrown comic-book would sell millions of copies and be spun off into video games, action figures and a host of other products." The alien hero's website provides a detailed history of Zen's licensing, and is also where the uninitiated can learn his origin and read a free 52-page story.
To commemorate Zen's 25th anniversary, First Comics is unveiling the first volume of 'The Best of Zen Intergalactic Ninja' at Comic-Con 2012. "This is Zen's first-ever archival collection, and it includes some of the most important stories in the Zen canon," said First Comics director Ken F. Levin.
Stern and Cote will be signing 'The Best of Zen' at the First Comics booth # 2001 throughout the Con. Fans should check with the publisher for signing times.
Zen's creators will also appear on the First Comics panel, in Room 23ABC on Thursday from 5-6pm.
Also available at this year's Comic-Con will be a limited number of copies of 'Zen Intergalactic Ninja: Tour of the Universe—the Airbrush Art of Dan Cote', published by Entity Comics in 1995. "We were honored recently when the folks from Robot 6 at Comic Book Resources dubbed it 'the greatest comic-book of all time,'" said Stern. "It's really a well-deserved appreciation of Dan's unique airbrush style."
The article can be read in its entirety here.
"Steve and I dug into our personal collections and came up with a couple dozen mint-condition copies of the 1995 book, to bring with us to San Diego," said Cote, who maintains his own blog, as well as a Zen Facebook page.
2013 will see the publication of two new Zen graphic novels from First Comics, 'The Zenith Orb' and 'Hard Bounty'. "We look at this anniversary as the start of the next twenty-five years of Zen," said Stern. "Zen has officially become a multigenerational comic-book hero. Many of our fans from back in the day are now introducing their kids to him, which is pretty cool."