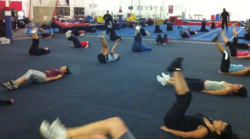 There Is Nothing More Powerful Than A Client Selling A Client
Chino Hills, CA (PRWEB) July 11, 2012
Personal trainers, or any fitness professional for that matter, typically do not have a lot of money to spend on marketing clients (especially when starting out). What most don't realize is that they really don't have to spend money to attract clients. PTPower.com has excellent videos and blog posts that offer a ton of fitness marketing tactics that personal trainers don't have to spend any money applying.
One of the videos, "How To Start Your Own Group Training Program," is an interview Bedros conducted with Steve Hochman where Steve shares what he did to earn six figures from his fitness boot camp in under six months and he didn't spend a dime. "There is one awesome client getting tactic that has never changed and never will and that is client referrals", states Bedros. "It is one of the easiest and most powerful strategies a trainer can use to gain more clients."
Bedros talks about the different ways a trainer can seek client referrals but one of his favorites is called The Human Billboard. "The human billboard is literally a trainer's walking, talking billboard", adds Bedros. "The trainer offers a special promotion to let's say 20 clients for training for a certain dollar amount and length of time. The trainer knows his or her program rocks and the client will get the results he or she wants. And when they do they automatically become a walking, talking billboard. In return for the awesome promotion, the client promises (in writing) to provide referrals to the trainer. It's a win-win situation."
The fitness industry is a very competitive market, and it doesn't matter if the fitness professional runs a fitness studio, fitness boot camp or one-on-one training, the human billboard strategy can be successfully implemented in all of them. The formula is completely explained in the video located on Bedros's website, PTPower.com. In this video there is a five step process of how to gain quality clients without spending a dime and better yet by following these steps, the fitness professional can potentially make a six figure income.
"When you give clients such an amazing offer that no other client receives, they automatically feel special," says Bedros. "And when your training program delivers the results the client is looking for they get excited to tell everyone about you and your program. It's almost like they become your inside marketing person."
Trainers, new and seasoned, should always have client referrals as one of their most utilized fitness marketing tactics. This formula is proven and simple to implement. Who says money has to be spent on marketing? "There's nothing more powerful than a client selling a client," comments Bedros.
###
To find out more about Bedros Keuilian, his company PTPower.com and the Fitness Boot Camp Franchise Fit Body Boot Camp, contact Bedros Keuilian at (800) 261-0208. Alternatively you may use the contact form at http://ptpower.com/contact-me/ or send an email to Bedros Keuilian at support(at)keuilian(dot)com.