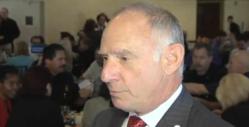 You have to be involved, we have to make a difference, and we have to have the right leaders
Corona, CA (PRWEB) July 12, 2012
Emcee Rick Bishop of WRCOG (Western Riverside Council of Governments) said, "The economy is certainly in the tank right now but Western Riverside County continues to be one of the fastest growing areas in the United States."
Moderator Jeff Gibson, Occidental Communications and Chamber Advocate presented how California was the number one job producer among the states that run along the I-15 corridor (Utah, Nevada and Arizona). He said, "Eighty one percent of the jobs that have been produced along that corridor in the last year have been produced in the state of California."
Corona was especially attractive for new businesses to take economic risks in and will continue to be because of it's prime location, distribution infrastructure and easy access to the 91 and 15 freeways.
Positive signs that the economy was improving in the city of Corona was sited by Blankenship who said building permits for the first quarter of this year were almost as many as the total for last year, although he conceded that numbers were still low. "We're already at 47 for this year.... but last year we were at 55 [for the entire year]."
Blankenship also discussed the fact that housing prices are down nearly 60 percent in Riverside County. "There's' never been a better time to buy a home," he said. But one of the hurdles the industry continues to face is the high cost of building. The city of Corona is one jurisdiction that has lowered its development impact fees. "The [housing] industry has made big changes to be competitive in this market," Blankenship added.
Another major issue the panel addressed was the Annexation of Temescal Valley, which encompasses approximately 15 square miles with a population of about 15,000. Colleta explained the fiscal analysis and cost to revenue ratio the city must consider for annexation. She said, "If the city actually annexed this land and was able to provide it with ample city services based on the revenue we expect to get from that, and if that fiscal comes back positive, that's really a good plan and we can actually provide some service out here and replace some of the services that are provided by Riverside County."
Currently, the city is working on educating the public on the annexation and Colleta was confident the community would be supportive.
Keynote speaker Zaremberg discussed how people no longer have confidence in their government and community and what could be done to help change that. He said, "You have to be involved, we have to make a difference, and we have to have the right leaders. We have to have people who make job creation a priority."