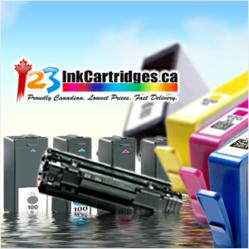 Montreal, Quebec (PRWEB) July 10, 2012
This online retailer is based in two locations in Canada and offers discounted ink and toner cartridges, computer and phone accessories, as well as other supplies needed for a home, office or business. The high quality inventory of replacement ink and toner cartridges are offered as new or remanufactured. The expansion of inventory to include the Canon CLI-8BK cartridge identifies this company as one of the premier online suppliers of printer and computer related products.
123inkcartridges.ca began operations utilizing two separate locations in Canada to meet the large demand for high quality, discounted products that can be quickly ordered and processed for speedy delivery to most locations in Canada and the United States. The expansion of the inventory to include the Canon CLI-8BK Ink Cartridge is just one of the many examples of how this company strives to maintain the inventory to meet consumer demand for replacement and electronics parts.
Satisfied customer reviews can be read online and point to the ease of ordering and the fast receipt of high quality merchandise. Not only are ink and toner cartridges part of the inventory, but also the company maintains a large inventory of accessories for most business machines. Computer and phone accessories are available at discounted prices. Staff quickly responds to any questions about products and can help customers quickly locate specific replacement parts. The goal is to make each customer's shopping experience a pleasant one. The high quality products and customer service offered by 123inkcartridges.ca sets this company apart from the rest. One of the goals of this online retailer is to offer a convenient, affordable place to find home and office products for the growing electronics market.
Visitors to the site http://www.123inkcartridges.ca will have the most up-to-date information available at their fingertips and will be able to easily browse the entire inventory of products. The ink and toner cartridge lines are some of the largest available online as the company continues to stand behind their original purpose which is to offer customers high quality products at reasonable prices.
About 123inkcartridges.ca
The Canadian online supplier of high quality printer and computer accessories began as an online resource for customers to find high quality ink and toner cartridges for their printing needs. As the company quickly began to grow they also began to add products to their inventory. Today, 123inkcartridges.ca is still one of the leading online suppliers of computer and electronic related accessories and products. They house their vast inventory in two large facilities in Canada and ship products to customers throughout Canada and the United States.