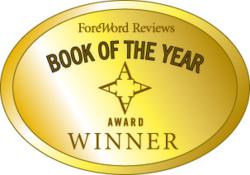 "We had a vision to create an anatomy book that balanced the art and the science of the human body. An anatomy book that appealed to everyone from academics to art aficionados."
- Peter Norton, Publisher Thunder Bay Press
San Diego, CA (PRWEB) July 11, 2012
Thunder Bay Press is excited to announce that Anatomy 360: The Ultimate Guide to the Human Body (ISBN: 978-1-60710-213-7) has been given a Gold Award in Reference in ForeWord's 2011 Book of the Year Awards. Released in the fall of 2011, Anatomy 360 is a top-selling reference book that depicts the human body in its entirety—from the skin to the muscles to the organs to the bones. With detailed pictures and vivid explanations, this stunning book provides a unique perspective on our most crucial parts, showing how the structures of our bodies influence their functions.
ForeWord's Book of the Year Awards program is designed for booksellers and librarians to share in the process of discovering distinctive books across a number of genres with judgments based on their own authority and on patron interests. The 2011 Gold, Silver, Bronze, and Honorable Mention Award Winners were announced on June 23 at the ALA Annual Meeting in Anaheim.
"We are thrilled and honored by the award given to Anatomy 360," said Peter Norton, Publisher Thunder Bay Press. "We had a vision to create an anatomy book that balanced the art and the science of the human body. An anatomy book that appealed to everyone from academics to art aficionados. The amazingly detailed images, rendered from almost limitless perspectives, differentiate this visual celebration. We are extremely excited to see that this book is being recognized for its beautiful and ambitious nature."
ForeWord Reviews' Book of the Year Awards bring increased attention to librarians and booksellers of the literary and graphic achievements of independent publishers and their authors. ForeWord is the only review trade journal devoted exclusively to books from independent houses. Their unique awards process brings readers, librarians, and booksellers together to select their top categories as well as choose the winning titles. Their decisions are based on editorial excellence, professional production, originality of the narrative, author credentials relative to the book, and the value the book adds to its genre.
Keeping in mind the standard used by booksellers and librarians for purchases and acquisitions, judging was based on items such as editorial excellence, originality of subject matter, accuracy, author credentials and professional packaging. Finalists were determined by a jury of judges consisting of editors and reviewers of ForeWord Reviews, booksellers, librarians, and other industry professionals.
About Thunder Bay Press:
Thunder Bay Press (http://www.thunderbaybooks.com) is an imprint of Baker & Taylor Publishing Group, the largest distributor of traditional and digital media in the world. Thunder Bay is a collection of coffee table-style reference books suitable for gift-giving on the subjects of art, architecture, pets, cooking, travel, culture, hobbies, religion, transportation and nature. Thunder Bay Press is perhaps most known for its best-selling Then and Now series.
###