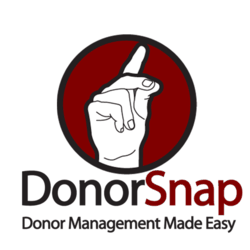 An organization can now quickly respond to fundraising opportunities while minimizing the staff and software costs
(PRWEB) July 11, 2012
DonorSnap fundraising software is a complete database for managing all of an organization's contacts. By partnering with Accelerated Payment Technologies, which has been processing credit cards for more than 25 years, DonorSnap clients are now able to tie online donations and event registration payments directly to their existing contacts. This new tool, which is available to all DonorSnap users, saves hours of processing time and helps to eliminate errors due to data entry.
Each nonprofit organization can have an unlimited number of forms that can be created or modified by the users themselves. There is no need for any web programming or HTML experience. The tool takes the user step-by-step through the form creation process to final launch in a matter of minutes. The user can choose from five different categories of forms: donation, interaction, volunteer, contact, or interaction with payment. Within these categories, the possibilities for forms are almost endless. Here are a few of the ways this tool can be used:

Donate now forms
Event registrations
Change of address
Volunteer sign up
Email subscriptions
Mailing preferences
Interest forms
Similar form tools offered by competitors usually require the page to be developed by the software provider at a cost to the user. Any changes or subsequent modifications must also go through the provider. DonorSnap's dynamic form is built and maintained completely by the user and is completely free for all DonorSnap users.
The form tool will automatically generate a static link that can be used on an existing web page or inserted into mass emails. Using the Constant Contact integration, a single staff member can develop a fundraising campaign form, write an email, and reach out to their entire database in less than 20 minutes. An organization can now quickly respond to fundraising opportunities while minimizing the staff and software costs that may be involved.
For additional information please visit DonorSnap.com or the Online Donations page. To receive more information from Accelerated Payments please use the form located at http://xchargepayments.com/donorsnap/
About DonorSnap
DonorSnap, with offices in San Francisco and Milwaukee, was founded by Dennis Mueller, Milwaukee, a graduate from Harvard's OPM program, former CEO of MRM Technical Group and currently DonorSnap's Managing Partner and Robert Carr, of San Francisco, developer of Framework, GoPen and formerly of AutoDesk and Sofinova. Currently CEO of KeepandShare.com a social networking site for groups and organizations.
About Accelerated Payments
Accelerated Payment Technologies™ (formerly known as CAM Commerce) has a rich history of more than 25 years in the point of sale (POS) software business. Accelerated is headquartered in Pleasant Grove, UT with additional offices in St. Louis, MO and Henderson, NV. As a market leader, Accelerated pioneered the concept of a single integration point for payments in order to offer clients a robust and sophisticated front office solution. Accelerated's unique perspective and accumulated knowledge resulted in a best-in-class integrated payment processing application.
Accelerated has the resources and singular focus to meet the demands of an ever-changing market and empower their business partners with a value-added solution. Accelerated has the most experienced group of sales and service professionals in the integrated payments industry and a keen understanding of the POS software business.