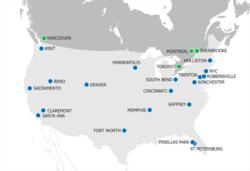 Same-day delivery is becoming the new differentiator in eCommerce order fulfillment.
Tampa, Florida (PRWEB) July 11, 2012
Jagged Peak, Inc. (OTC BB: JGPK), a leading provider of enterprise-class eCommerce solutions and outbound supply chain services announced today that it recently added same-day eCommerce order delivery services through its FlexNet fulfillment network in Canada. In the first week using the new service, one of Jagged Peak's consumer packaged goods clients saw 12 percent of its eCommerce orders in Canada delivered the same day.
"This is a remarkable stat," says Jagged Peak COO Dan Furlong. "We began offering same-day delivery in the U.S. last year, and we were equally pleased with the results. In New York City, all orders received by 4:00 p.m. are delivered to the customer by 7:00 p.m. that day. Clients have told us that their customer satisfaction has increased dramatically as a result, so we're very excited to extend this service to Canada. It's just one more way to help our clients gain a competitive edge while building their brands around delivery service excellence."
FlexNet is Jagged Peak's fully integrated warehouse network that operates on the EDGE eCommerce platform. EDGE optimizes order fulfillment and delivery service by accessing real-time inventory availability and customer proximity, and then sourcing orders to the optimal warehouse for fulfillment. EDGE also shops shipping options with multiple carriers, matching the carrier's time in transit data to meet or exceed the customer promise date with the most cost-effective delivery service option. Taking this high-tech approach to order fulfillment, Jagged Peak has been able to reduce its clients' freight costs while simultaneously expediting delivery and improving customer satisfaction.
"Same-day delivery is becoming the new differentiator in eCommerce order fulfillment," continues Furlong. "We're on the leading edge of this trend in the U.S. and now―thanks to our FlexNet Certified Partner, WipTec Logistics, and our same-day carrier, ProActif Transport―we're able to do the same thing in Canada."
About Jagged Peak
Jagged Peak is a leading eCommerce solutions provider with software and services that enhance the scalability, flexibility and profitability of multi-channel online businesses. Its cornerstone technology is EDGE™―an enterprise-class eCommerce platform that includes a full-featured website development frontend and robust Order Management System (OMS) as well as a Warehouse Management System (WMS) and Transportation Management System (TMS). These platform elements can be deployed alone or together through a license or SaaS delivery model to form an end-to-end, web-based software suite that integrates the entire order life cycle with visibility across business units, distribution channels and trading partners―all while enabling the client to have complete control of their online brand. Combining its technology with a comprehensive array of eMarketing, customer support and IT professional services along with "anytime, anywhere" order fulfillment through its FlexNet warehouse network, Jagged Peak offers a rare and uniquely holistic approach to eCommerce. Jagged Peak's blue chip client roster includes numerous global consumer brand companies. For more information, please visit http://www.jaggedpeak.com.