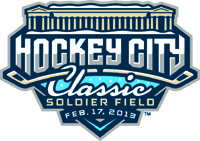 Chicago, IL (PRWEB) July 11, 2012
Outdoor hockey is coming to Soldier Field for the first time in the venue's legendary history. On Feb. 17, 2013, Soldier Field will play host to the inaugural Hockey City Classic - an outdoor college hockey doubleheader featuring premier programs: University of Notre Dame vs. Miami University and University of Minnesota vs. University of Wisconsin. Game times will be announced at a later date. The Hockey City Classic will be preceded by two weeks of winter festivities, including: two days of free public ice skating; youth, high school and adult hockey events; private ice rentals; and much more. The Hockey City Classic is being organized by Chicago-based sports and entertainment marketing agency Intersport, in partnership with Soldier Field and the Chicago Park District.
For information, including tickets sales, breaking news and schedule information, register for updates at: http://www.hockeycityclassic.com, find us on Facebook (http://www.Facebook.com/HockeyCityClassic) or follow us on Twitter (@HkyCityClassic). Tickets for the Hockey City Classic will go on sale to the general public on Oct. 1 through Ticketmaster.com. Season ticket holders from the four participating universities, as well as Chicago Bears season ticket holders, will have the opportunity to purchase advance tickets in an exclusive presale. Once the presale information is finalized, each university and the Chicago Bears will communicate with their respective season ticket holders.
The four teams competing in the Hockey City Classic have a combined 36 Frozen Four appearances and 11 National Championship titles. Each year since 2008, at least one Hockey City Classic participant has made an appearance in the NCAA Frozen Four, including most recently: Minnesota in 2012, Notre Dame in 2011 and both Wisconsin and Miami in 2010. The Hockey City Classic will be the first outdoor game in the modern era for three of the four participants - Miami, Minnesota and Notre Dame.
"As a Chicago-based company, Intersport could not be more proud to launch the first-ever outdoor college hockey event in the great City of Chicago," Charlie Besser, President & CEO of Intersport, said. "Chicago is Hockey City! More fans attend hockey games in this city than in any other. Chicago is the perfect place, February is the perfect time and Soldier Field and the Chicago Park District are the perfect partners. Chicago, the Hockey City, will love to see four great college hockey programs collide on the lakefront and we are proud to bring this event to our hometown."
"This attraction will offer something for everyone," Chicago Park District General Superintendent and CEO Michael Kelly said. "In addition to hockey fans experiencing an unprecedented event at historic Soldier Field, the general public will have the unique opportunity to skate on the rink during the free public programming."
"This is a great opportunity for us to play in such a historic stadium in a city with a lot of both Miami University alumni and Miami Hockey alumni," Miami head coach Enrico Blasi said. "We are grateful for the opportunity and look forward to playing one of our big rivals in the University of Notre Dame in our first outdoor game."
"It's a great thrill for Notre Dame to play our first outdoor game in Chicago at historic Soldier Field," Notre Dame head coach Jeff Jackson said. "With so many Irish fans, alumni and current players hailing from the Windy City, it will be a homecoming of sorts. Joining three other great hockey programs at this event will create a tremendous day of college hockey for the great hockey fans of Chicago."
"It is something that I have always wanted to do, and I think it will be exciting," Minnesota head coach Don Lucia said. "Soldier Field has great history and this is a wonderful opportunity for the University of Minnesota to play in its first recent outdoor hockey game. It should be a terrific experience for all involved. Playing Wisconsin, one of our big rivals, will only add to the experience and make it extra special."
"To be able to play outdoor hockey at one of the most famous venues in the country, in Chicago, which is a great hockey town, will be a special event," Wisconsin head coach Mike Eaves said. "We've experienced these types of games in the past and they create memories that the student-athletes will be able to tell their grandkids about some day."
Media inquiries can be sent to Lauren Price at lprice(at)intersportnet(dot)com or 312-645-5417.
About Intersport
Since 1985, Intersport has been an award-winning innovator and leader in the creation of sports and entertainment based marketing platforms. Intersport provides turnkey solutions for global brands by combining two award-winning divisions: Sponsorship & Event Marketing and Television & Digital Media. Intersport owns and operates seven annual live television events: All-Star Football Challenge, College Home Run Derby, College Slam Dunk & 3-Point Championships, High School Slam Dunk & 3-Point Championships, Hockey City Classic, Women's Basketball Tip-Off Classic and the Under Armour All-America High School Football Game. To learn more about Intersport, log on to http://www.intersportnet.com, like us on Facebook (http://www.Facebook.com/IntersportBuzz) or follow us on Twitter (@IntersportBuzz).
About Soldier Field
Soldier Field, Chicago's premier event venue, hosts over 200 public and private events annually. The stadium is owned by the Chicago Park District and managed by SMG, the world leader in venue management, marketing and development. Soldier Field is the first stadium in North America and the only NFL stadium to be awarded LEED-EB Certified status by the U.S. Green Building Council. Visit http://www.SoldierField.net or call to learn more about its greening initiatives.
About Chicago Park District
For more information about the Chicago Park District's more than 8,100 acres of parkland, 580 parks, 26 miles of lakefront, 10 museums, two world-class conservatories, 16 historic lagoons, 10 bird and wildlife gardens, thousands of special events, sports and entertaining programs, please visit http://www.chicagoparkdistrict.com or contact the Chicago Park District at 312/742.PLAY or 312/747.2001 (TTY). Want to share your talent? Volunteer in the parks by calling, 312/742.PLAY.
###