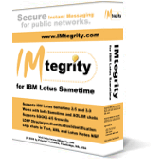 "I installed the IMtegrity full product about one month ago, and so far I like it very much, it's a big improvement on resource usage from the product we used to use (Symantec IM Manager)."
Portsmouth, NH (PRWEB) July 11, 2012
Instant Technologies, specialists in developing innovative, enterprise-class compliance and archiving solutions for IBM Lotus Sametime and Microsoft Office Communications Server, today announced a new competitive upgrade program for customers that need to replace their existing IBM Sametime archiving solution.
Companies presently running products such as Symantec/IM Manager or Actience/FaceTime can upgrade to Instant IMtegrity Archives and receive immediate list price discounts. For many companies, that means they can purchase IMtegrity for less than the cost of renewing support with their current vendor.
Instant IMtegrity Archives is the leading Lotus Sametime archiving and compliance, search, and discovery solution for IBM Lotus Sametime. IMtegrity Archives helps organizations meet regulatory compliance requirements and enforce internal IM usage policies. Instant IMtegrity is a highly scalable, and stable, Sametime Archiving application and is in use at many of the leading financial service organizations.
"IMtegrity Archives is a solid product and offers more than our competition", stated Peyton McManus, President of Instant Technologies. "We have invested in Sametime and proudly stand behind our products as leaders in the IBM Sametime archiving and compliance segment."
IMtegrity's native Sametime design eliminates the need for additional proxy servers and external databases to deliver these key architectural benefits:
IMtegrity is integrated with Sametime's native chat logging facility
IMtegrity uses familiar Lotus Domino data storage and system maintenance
IMtegrity uses Notes .NSF as its data storage system to leverage existing access control
lists, administrative policies, and training
About Instant Technologies
Instant Technologies specializes in developing innovative, enterprise-class compliance and productivity solutions for IBM Lotus Sametime and Microsoft Office Communications Server, including IM archiving and compliance, IM click to chat applications, and IM administration tools. Instant Technologies is a Lotus Advanced Business Partner and a Microsoft Silver ISV Partner based in Portsmouth, NH.