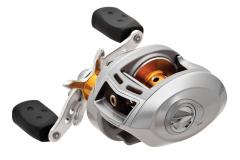 Metairie, LA (PRWEB) July 10, 2012
Hrubes Sportz, an online sporting goods store specializing in outdoor products and fan gear, is hosting their first major sale of 2012. The pride of Hrubes Sportz is to offer consumers high quality products at very reasonable prices. With some of their most popular products being in the outdoors category, Hrubes Sportz keeps the newest and most sought after products in the marketplace.
Abu Garcia fishing reels is one of Hrubes Sportz best selling products in their fishing category. As one of the most respect and most reputable companies for fishing reels, Abu Garcia prides itself on quality and superior performance, with cutting edge design. Hrubes Sportz selected Abu Garcia because of these traits and offers a selection of reels such as spin cast and bait cast for inshore or offshore fishing.
Also in the fishing category Hrubes Sportz offers the latest in fish finders and gps. With top name brands such as Lowrance, Hummingbird, Garmin and Furuno, customers again can expect great quality and performance. With different models available from each of these brands, Hrubes Sportz is able to keep the prices affordable for everyone, no matter what their style or budget may be.
Campers, Hikers, and Hunters can also browse a selection of products available to suit their needs. With a variety of equipment and accessories, customers looking for products in these categories, at HrubesSportz.com, will find a mix of things for safety, comfort, and convenience. If it's a first aid kit or a cooking set for a camping trip, Hrubes Sportz has made sure that their customers can have what they need for any occasion.
With a very professional and well designed website Hrubes Sportz has made the shopping experience very pleasant and fun to find the products one may be looking for. All their products qualify for free shipping, which Hrubes Sportz has set at purchases of $75 or more. The owner, Kyle Hrubes, likes to say "Activity starts here, for the sports you love."
Hrubes Sportz LLC was Founded in January 2012 by a young entrepreneur, Kyle Hrubes, a native of New Orleans who appreciates why Louisiana is called "Sportsman's Paradise. It is the goal of Hrubes Sportz to provide quality products at reasonable prices so you can maintain your active lifestyle. Whether you enjoy hitting the links, being on the water, hitting the trails, have a favorite sports team, or just a fan of sports in general we are here to provide you with anything you may desire.