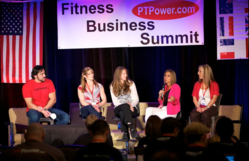 There Are Hundreds Of Marketing Ideas To Generate New Clients Within Your Own Fitness Business, You Just Have To Find Them
Chino Hills CA (PRWEB) July 12, 2012
"Many fitness professionals claim they run out of marketing ideas to generate new clients. This is frustrating and often times trainers are just too busy to sit down and figure out what their next fitness marketing tactic should be. So I put together a list of 21 Fitness Marketing Ideas as a quick reference guide for trainers who get stuck for ideas", says Bedros. "And here they are. Keep this as an excellent fitness marketing resource."
1. Tag clients on Facebook and give them appreciation.
2. Drop postcards in the mail to targeted homes within five miles of a facility. Make an irresistible offer with a deadline.
3. Distribute door hangers with a similar offer as above to higher priced (affluent) homes in area.
4. Buy ads on Facebook, point them to a fan page with an awesome offer (free eBook, report, video) in exchange for an email address.
5. Get 30-50 lead boxes in local businesses that serve the ideal market.
6. Trainer should network with local business owners. Create a strategic alliance and promote each others businesses.
7. Create 4-6 minute "how to" videos and post them up on YouTube with trainers' keywords and they should add a link to their site in the description box.
8. Trainer can buy traffic from Google (ad words) and point them to their fitness business website. (be sure that the business site converts well)
9. Trainer should build an email list of local prospects, business owners, clients and former clients by offering free reports and eBooks on fitness business website or blog.
10. Trainer must deliver killer content, articles, recipes, and case studies to email list on a consistent bases so that those on the list will get to KNOW, LIKE, and TRUST them .
11. Periodically trainer must send out promotional emails to their email list and make them irresistible, low barrier offers.
12. Craft phone and email scripts to use when receiving phone and email inquiries.
13. Make referral giving a condition of doing business with trainer.
14. Run client referral contests once a month.
15. Over deliver on results, service, recognition and appreciation.
16. Use the human billboard method to build a referral generation army.
17. Craft and distribute press releases that tie fitness business in with human interest stories or news.
18. Get fitness business website to rank for the top keywords that local community is searching for on Google.
19. Call former clients and prospects and make them irresistible, low cost and short term offers to come back and try programs out.
20. Run free Saturday boot camps and group training sessions for the community for 3-4 weeks at a time.
21. Become a better "assistant buyer". Trainer needs to learn to sell services better.
There you have it. Bedros has created an excellent resource list any fitness professional can use for personal trainer marketing. His many years in the trenches as a personal trainer himself and as one of the top fitness marketing coaches in the industry has earned him the respect of knowing what works for generating leads and acquiring new clients.
Bedros also offers a "done for you" FitPro Newsletter that automatically performs some of these 21 Fitness Marketing Ideas. "Personal trainers are busy changing people's lives and don't always have the time to sit down and write so I developed a cutting edge program that produces newsletters, emails, recipes, and more so they don't have to, "states Bedros.
###
To find out more about Bedros Keuilian and his company PTPower.com and FitPro Newsletter, contact Bedros Keuilian's office at (800) 261-0208. Alternatively, you may use the contact form at http://ptpower.com/contact-me/ or send an email to Bedros Keuilian at support(at)keuilian(dot)com.