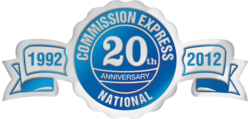 "I'm sure that the next $500 million in commission advances will occur much sooner now that agents are aware that we are here for them," said John Stedman, President.
Fairfax, Virginia (PRWEB) July 11, 2012
Commission Express, a nationwide company that offers commission advances to real estate agents across the country has reached $500 million in commission advances.
In recent years, the real estate industry and the independent contractor professionals that work in it have struggled against formidable economic forces. Today many real estate experts are starting to see a resurgence in sales and favorable market conditions. Companies like Commission Express have helped thousands of real estate agents even out their cash flow and remain in the business. As the only national commission advance franchise in the U.S., Commission Express is in the unique position to provide local and personal service to the real estate agents and brokers in their local area.
If you or your organization would like more information on commission advances or on Commission Express, contact us by phone at 703-560-5500, or by email at manager(at)commissionexpress(dot)com. You can visit our website at http://www.commissionexpress.com.