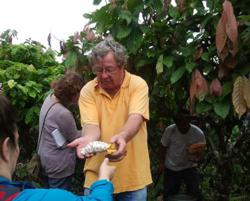 Now I know for sure why I like or dislike some chocolate bars; it's definitely . . . the beans.
(PRWEB) July 12, 2012
Ecole Chocolat graduate Maya Schoop-Rutten had her eyes opened when she participated in a recent Ecole Chocolat Master's Program in Ecuador that took participants from Quito through the Andes to Quevedo City, La Mana, Mindo and Kallari regions of the country.
Schoop-Rutten – born in Switzerland where fine chocolate is a daily part of everyone's diet, and now owner and master chocolatier of Chocolate Maya in Santa Barbara, Ca. – attended a chocolate salon in Lima, Peru, following her week-long journey into the heart of Ecuador's cacao-growing regions. She found most of the chocolate-salon offerings were made from mass-market cacao beans bred in the 1960s and now widely grown throughout South America, disappointing chocolate that had "absolutely no soul, no depth of taste."
It was what she had been tasting during her Ecuador tour that has changed her perception of what constitutes a truly fine chocolate. "I consider myself to have a pretty good palate but now I know for sure why I like or dislike some chocolate bars; it's definitely related to the origins of the beans," she says, adding that the Ecuador experience has made her an even more passionate advocate for fine chocolate.
The Ecuador itinerary took the ten participants to the Los Rios region where they learned about post-harvest processing and met with Samuel von Rutte, a former Nestlé employee from Switzerland and now a cacao farmer outside of Quevedo, says Ecole Chocolat founder and Master's Program tour leader Pam Williams. "Then it was out into the fields with Samuel and chocolate maker Steve De Vries for a discussion on growing cacao. We visited two cacao collection centers where the dry or semi-wet beans are delivered and watched the processes those go through before being shipped to the buyer."
The group also traveled to Ecuador's Mindo region where they visited Mindo Chocolate Maker owners, Ecole Chocolat graduate Barbara Wilson and Joseph Meza. Then on to the Amazon region where they met with the leaders of the Kallari Cooperative and visited their collection and post-harvest processing center as well as one of their farms that was only accessible by boat, Williams says.
"We also spent time on chocolate making and tasting at Ecuatoriana de Chocolates where they make Kallari brand chocolates and with our Program Leader, Jeffrey Stern, at his Gianduja chocolate laboratory where he produces a beautiful and tasty line of bonbons and confections from Ecuador chocolate made from Samuel van Rutte's beans."
Meanwhile, Jean Paul Hepp, another Ecole Chocolat graduate who attended the Ecuador program, says he was so impressed with the quality of his first program with the professional chocolate arts school that he has since taken almost all of the other programs offered there.
In Ecuador, Hepp says, "we met with farmers, cooperative owners, processors, exporters, we visited plantations and installations. We tasted different chocolates and were taught about the differences between the cacao trees, between the varieties of beans, how to do quality checks on the spot, about the hurdles of doing business."
Hepp, who resides in Clinton, NJ and is changing careers after 23 years in the pharmaceutical industry, plans to launch Chocodiem, a fine chocolate business, with his daughter in the fall. Although his area of the U.S. is home to such heavy-weight chocolate producers as Hershey's, Hepp says there's plenty of room there for a high-end chocolatier.
At its source, chocolate is an agricultural product, but what sets mass-market chocolate apart from the fine stuff is its type as well as post-harvest and chocolate-making processes. The vast majority of chocolate consumed on the planet comes from what are called forastero cacao beans (the word cacao is used to describe cocoa beans before they are processed into the chocolate we all know and love), derived from a hardy strain that today is grown primarily in Africa.
Fine chocolate has more delicate and nuanced flavors and aromas and is derived from other bean types, such as criollo, trinitario and nacional. These types are considered fine-flavor cacaos but are less hardy than forastero; slower growing varieties that are more prone to disease, hence their rarity.
Ecole Chocolat's Master's Programs also take graduates to Costa Rica, France, Italy and other chocolate centres around the world.
Founded in 2003, Ecole Chocolat Professional School of Chocolate Arts offers a portfolio of programs for chocolate making – mastering techniques while gaining the expertise and business knowledge needed to become a professional chocolatier or chocolate maker. Ecole Chocolat's founder Pam Williams is the recipient of the Award of Excellence in Service to the Industry from the Fine Chocolate Industry Association. See our website: http://www.ecolechocolat.com