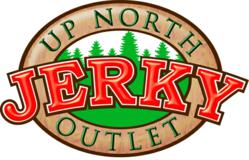 Our booth is little like an old fashioned country store."
Troy, Michigan (PRWEB) July 11, 2012
The Up North Jerky Outlet will Exhibit at the 29th Annual World Deer Expo in Birmingham, Alabama July 20-22. Beef jerky from Northern Michigan is world famous for its unique flavor and texture. Up North Jerky will be in booth 420, offering six flavors of beef jerky and three flavors of highly popular King Hunters Sausage. Up North Jerky Outlet products are also available at their retail website http://www.upnorthjerky.com.
This is the third appearance for Up North Jerky at the Expo. Bill Szlachta, company Events Manager, says that the reception at the Expo has been very positive. "Most of the folks at the show are outdoors people who just love beef jerky. They really like the way we sell beef jerky and hunters sausage in bulk by weight. Our booth is little like an old fashioned country store." Bill adds that they also love the unique flavors of Up North Jerky. "We are bringing six flavors of beef jerky to the Expo, including cherry maple, honey barbeque, blazing hot, peppercorn and cajun barbeque brisket. We also have three flavors of King Hunters Sausage: original, teriyaki and jalapeno.
Cherry maple beef jerky from Northern Michigan is world famous for its unique flavor and texture. Choice cuts of whole muscle meat are marinated with special spices then naturally smoked to perfection. The beef jerky has only a hint of sweet to go along with the rich texture and beefy flavor. Cherry maple beef jerky retains a moist and tender texture that sets it apart from commonly available beef jerky products.
Scott Christ, National Sales Manager for Up North Jerky, points out that the success of premium beef jerky products is a national trend. "We sell far more beef jerky in Florida, Tennessee and Texas than in Michigan. The flavors and moist texture of Michigan-style beef jerky makes it a favorite anywhere. Beef jerky lovers are really catching on to our products."
Up North Jerky beef jerky is sold in national outdoors sporting goods stores, but also has a wider consumer appeal. Scott Christ says that there is no typical beef jerky lover. "You just can't stereotype the beef jerky consumer. Beef jerky sells well in outdoors retailers, but it also is popular in convenience stores and a surprising range of other venues. The market demographic is expanding all the time."
According to Scott, a major reason for the expansion of the market is the introduction of new products like cherry maple beef jerky. Premium beef jerky is now seen as a preferred snack food or an alternative to fast food lunches. "A pack of beef jerky, a piece of fruit and a drink are a healthy lunch alternative to burgers and fries. People like to have choices."
Up North Jerky also has a full product line of beef jerky, turkey jerky, wild game jerky and jerky sausage. For a more complete description of available products for resellers log on to the Up North Jerky Outlet business website at http://www.upnorthjerkyoutlet.com.
For complete information visit our retail website http://www.upnorthjerky.com
Up North Jerky Outlets
1437 Rochester Rd.
Troy, Michigan 48083
SALES(at)UPNJO(dot)COM
Phone: 248 577-1474