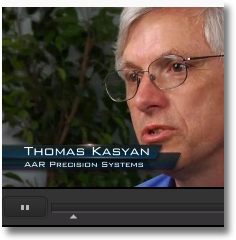 Costimator has provided us a 50% increase in cost estimating speed."
West Springfield, MA (PRWEB) July 11, 2012
MTI Systems, Inc. announced today that since implementing Costimator®, the company's cost estimating, quoting and process planning software, AAR Precision Systems (Huntsville, AL) has increased their estimating speed by 50%.
"We had been using a spreadsheet system that was slow and inconsistent," said AAR Precision Systems Estimator Thomas Kasyan. "We were getting a variety of answers for similar processes causing folks internally to question the results. Once we brought in the Costimator software those problems were erased."
AAR Precision Systems is a highly recognized producer of advanced material aerospace and commercial structures. For the past 28 years, they've existed in a space where speed and time is essential to success. After implementing Costimator, later in 2011, they began to see results, especially with regards to the impact of the Cost Modeler database feature on their cost estimating process.
"By using cost models we're able to configure the system based on our manufacturing environment and quoting requirements. There are over 300+ cost models that are shipped with the estimating system, and we can adjust the models to more closely fit our needs," said Kasyan. "Since implementation we created over 20 cost models specific for our processing needs. That's provided us with a 50% increase in estimating speed."
For more information read AAR Precision Systems' Case study: "Costimator Enables AAR Precision to Increase Their Cost Estimating Speed by 50%".
Costimator was originally designed to make estimating easier for manufacturers by calculating cycle time and cost of manufacturing a part based on the shops equipment and their shop rates. During its 30 year history, the software evolved, and its capabilities include helping to meet the needs of OEMs worldwide – ranging from the defense & aerospace industries, to medical, automotive, heavy equipment, electronics and consumer product manufacturers.
About AAR Precision Systems
AAR Precision Systems is one of the country's leading manufacturers of advanced material aerospace and commercial structures, assemblies and components. In business for over 28 years, the company has amassed a diverse portfolio of work that includes commercial airliners, International Space Stations, shuttles and fighter jets for clients such as Boeing, Raytheon, General Dynamics and Bombardier.
About MTI Systems, Inc
MTI Systems offers cost estimating software and "should cost" estimation services for manufacturers worldwide. Schedule a free on-line demonstration: MTI Systems, 59 Interstate Drive, West Springfield, MA, 800-644-4318/413-733-1972, info(at)mtisystems(dot)com.