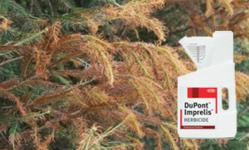 Wright & Schulte LLC - The leading law firm handling Imprelis damage cases across the USA. If you have sustained damaged or dying trees due to Imprelis, call the leading law firm that can help you at 1-800-399-0795 today!
Dayton, OH (PRWEB) July 10, 2012
The national law firm of Wright & Schulte LLC continues to file Imprelis lawsuits on behalf of property owners who suffered alleged imprelis tree damage and death following application of Imprelis herbicide on their lawns. Wright & Schulte LLC recently filed five new Imprelis lawsuits on behalf of Ohio residents who suffered significant damage and harm to trees on their property, allegedly due to Imprelis. All of the Imprelis complaints, which were filed on June 29, 2012, in U.S. District Court, Southern District of Ohio, name E.I. Du Pont De Nemours and Co. as defendant. (Case Nos. 12-582; 12-583; 12-584; 12-585; and 12-586)
According to the complaints, DuPont brought Imprelis to market based on a conditional registration granted by the U.S. Environmental Protection Agency (EPA) in August 2010. The company began widely marketing and selling Imprelis in 2011, touting the herbicide as a safe and effective way to treat the roots and shoots of the most common and hard to kill broadleaf weeds present in turf grass without any negative impact on surrounding plants. Shortly after DuPont brought Imprelis to market, reports began emerging that trees located in proximity to Imprelis application sites were yellowing and dying, prompting the company to stop sales of Imprelis on August 4, 2011. According to the lawsuit, reports indicated that Imprelis applications were being immediately followed by lethal damage to mature trees, including Norway and Colorado spruce, white pines, and other evergreens. On August 11, 2011, the EPA issued an immediate stop sale order for Imprelis, after DuPont submitted reports of thousands of instances of tree damage, the complaint states. [ http://www.epa.gov/pesticides/regulating/imprelis-stopsale-letter.pdf
All of the Ohio Plaintiffs in the complaints allege that Imprelis was applied to their lawns in accordance with the directions, instructions, advertising, representations and warranties supplied by DuPont. All claim they have suffered significant damage and harm to their trees, and will suffer even further damage to their lawn and gardens because of Imprelis. The lawsuits further allege that, far from being isolated incidents, tens of thousands of trees have been reported as having been affected by Imprelis – with tens of thousands more to come, due to the persistent and non-soluble nature of the powerful chemicals in the herbicide. Plaintiffs further assert that in the initial stages of the disaster, rather than pulling Imprelis from the market or otherwise offering to assist and/or compensate property owners and lawn care companies injured by Imprelis, DuPont suggested that the reported problems were not its fault, and were actually caused by environmental factors or improper application of Imprelis by lawn care professionals.
According to a report published by The New York Times on June 22, 2012, DuPont is facing more than 30,000 damage claims from homeowners, golf courses, municipalities and landscapers arising from its sale of Imprelis. DuPont, which did eventually establish a claims resolution process for property owners and others who sustained damage from Imprelis, has set aside $225 million for claims that have already been submitted, though it is believed payout could ultimately reach $575 million. However, several homeowners interviewed by the Times expressed frustration with the pace of DuPont's Imprelis claims process and communications from the company. [http://www.nytimes.com/2011/07/15/science/earth/15herbicide.html?_r=1&pagewanted=all
According to The New York Times, the figures stated in its report do not include costs related to Imprelis lawsuits that have been filed by thousands of additional property owners throughout the country. Many of those lawsuits have been consolidated in the Imprelis Herbicide Marketing, Sales Practices and Products Liability Litigation currently underway in U.S. District Court, Eastern District of Pennsylvania. (Case No. 2:11-md-02284-GP)
Wright & Schulte LLC offers free lawsuit evaluations to property owners who suffered tree damage and death following application of Imprelis. Please visit http://www.yourlegalhelp.com, or call 1-800-399-0795 to learn more about your options for legal recourse.
Wright & Schulte LLC Handling Imprelis Lawsuit Claims Across The Country
Before you consider accepting any offer of compensation from DuPont, you should first speak to an experienced Imprelis attorney at Wright & Schulte LLC. As part of the compensation from DuPont you will be required to sign away your legal rights to sue the company. It can cost as much as $25,000 or even more to replace a full grown, mature, ornamental landscape tree. The experienced Imprelis lawyers at Wright & Schulte LLC will work on your behalf, and will make sure the compensation you receive will allow for you to return your property back to the way it was before Imprelis damage.
About Wright & Schulte LLC
Wright & Schulte LLC, a leading personal injury firm, is dedicated to the belief that America's legal system should work for the people. Every day, the attorneys of Wright & Schulte LLC stand up for the rights of people who have been injured or wronged, and fight tirelessly to ensure that even the world's most powerful corporations take responsibility for their actions. If you're looking for a law firm that will guarantee the aggressive and personal representation you deserve, please do not hesitate to contact Wright & Schulte LLC today. Free case evaluations are available through http://www.yourlegalhelp.com, or call 1-800-399-0795.
Contact:
Wright & Schulte LLC
812 East National Road
Vandalia, Ohio 45377
1-800-399-0795
937-435-9999