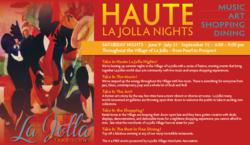 With over 15 incredible bands and musical artists, this free event is better than a concert, says Event Coordinator, Julie Matibag.
La Jolla, CA (PRWEB) July 12, 2012
The Haute La Jolla Nights event series was kicked off on June 9 to much acclaim by participating businesses as well as patrons. By all standards, the first event was a huge success. From the quantity and quality of music, to the creativity of participating merchants and the lively art gallery receptions, the event was bigger and more exciting than anyone could have expected for a first time event.
"We have a challenge to make the event bigger and better each time," says volunteer organizer, Julie Matibag. "For the second event, we've introduced a contest that will help to drive traffic into stores," continued Matibag. The LJVMA is launching a contest with an advertisement in the La Jolla Light, Carmel Valley News, Solana Beach Sun and the Del Mar Times. Patrons use the form on the ad to enter for a chance to win a free, two-night stay and spa package from La Costa Resort. Entry forms will be taken at any of the advertised locations. To increase their chances, each person may enter once at each of the nine locations.
Live music was a big draw for the first event. If visitors came to the Village expecting a handful of street musicians with their guitar cases out, they were blown away by the scale of the event and the level of musical talent they could experience. Highlights included the band NEVERREADY, a seven piece band with a huge sound, which included a sax, trumpet, trombone, guitar and drums. This band got the crowds rocking with their danceable amalgam of rock,soul and jazz. This band will be featured again at the July 21st event.
By a stroke of luck and great timing, the LVJMA was fortunate to draw the Dialog Project into the mix. Dialog Project has a progressive rock edge with a jazz- fusion improvisational style that takes the listener on an exciting musical journey of imagery, enhanced with odd time signatures and tempo changes. This is one hot band, who is also in hot demand. They play throughout San Diego at big venues like the House of Blues. They had such a good time at the first event that they are coming back for an encore performance at Haute La Joola Nights on July 21..
Other musical highlights included a jam session led by musician, Mark Pullin and high volume, high impact performances by Brief Exposure, Old Man Wizard and Saline Solutions. Though they are young, Bishops High School students, Paris Sorci and Austin Comstock brought a very seasoned and professional jazz sound to La Jolla Village. Singer/ songwriter Aja Lee Fasse delighted crowds with her unique vocal styling and original music.
But not all of the fun to be had was on the street. Some of the merchants pulled out all of the stops to create shopping experiences that their customers would not soon forget. Adelaid's put on quite a show with demonstrations that transformed ordinary vegetables like cabbage or asparagus into magnificent floral arrangements. Warwicks served up craft brews and tiramisu made with rich dark beer called "Beerimisu." Most merchants offered their guests wine, champagne and appetizers. And the art galleries introduced guests to new artists with lively receptions.
The musical line-up for the July 21 Haute La Jolla Nights event is:
MOR SOL - Light Jazz/Rock/Latin
Chilla Trio - Classic Jazz
Old Man Wizard - Progressive Rock
Saline Solutions - Rock/Alternative Rock
Carlos Rock Experience - Rock/ Rock Alternative
Mr. Hunter - Acoustic Guitar
Neveready - Alternative Rock
Aja Lee - Soulful Blues/Pop
Fakebook - Rock/R &B
No Name City - Jazz/ Rock&Roll
Larry Johnson - Solo Pop Musician
Hausmann Quartet - Chamber Music
Dialog Project - Original Rock/Jazz/Blues
Gus Mezza - Solo Vocal Artist
Ron Jones - Boomers Deejay
About the La Lolla Village Merchants Association: The La Jolla Village Merchants Association (LJVMA) is partially funded by the City of San Diego's Small Business Enhancement Program. The LJVMA is dedicated to promoting business in La Jolla VIllage and continuing to make La Jolla a world-class destination. Inquiries regarding Haute La Jolla Nights can be made to Volunteer Coordinator, Julie Matibag at 858-775-6378 juliematibag(at)wsiedgemarketing(dot)com.