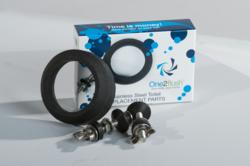 "The One2Flush is an inexpensive, simple way to save water. Two flush toilets have been around, but this retrofit kit makes converting any toilet to a two flush system extremely easy," says One Stop Green COO Greg Boyce.
Houston, TX (PRWEB) July 10, 2012
One Stop Green has expanded its water conservation solutions line by adding the One2Flush dual flush conversion kit. The One2Flush dual flush conversion kit can potentially save thousands of gallons of water per year without requiring a complicated installation or expensive parts.
One2flush makes the most affordable aftermarket dual flush conversion kit for toilets. These two flush kits can help save thousands of gallons of water per year every time a toilet is flushed. The award-winning One2flush's secret is in its dual flush design. Push the handle one way for liquids and the other way for solids, and the chamber knows exactly how little or how much water to use during each flush. The savings can equal up to thirty gallons a day for the average family.
Affordably priced and easy to install, the One2flush is perfect for families watching their expenses and for consumers in drought-stricken areas. With its reduced water needs, the One2flush eases the demands on local wastewater treatment plants, and by giving extended life to old non-degradable porcelain toilets, the One2flush even reduces landfill space. Truly an amazing device now offered as a part of One Stop Green's Water Solutions line of products meant to help people save water and money.
One Stop Green, LLC facilitates environmentally friendly improvements to residential and commercial properties through distribution of green, energy efficient products and services. They offer every product needed for sustainable energy independence enabling homeowners, businesses and commercial property owners to master their usage by reducing waste and implementing efficient energy consumption methods. Their goal is to provide user friendly and practical long-term solutions to existing inefficiencies and their carefully selected products and professional installers offer a higher level of satisfaction and service for their customers.
Contact:
Nathan Kaufman
http://www.OneStopGreen.com
P: 877.449.9110|O: 713.541.2739|C: 210.846.5900