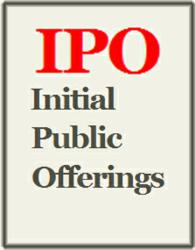 Los Angeles, CA (PRWEB) July 10, 2012
The IPO site is announcing the opening of its Pinterest page which can be found at:
http://pinterest.com/ipoadvisor/
Pinterest is a picture sharing social media site that allows its users to organize, create and share images of various subject matter in an efficient and succinct manner. Each individual user can create image galleries based on a desired theme such as: home photos, funny pictures, interests, events, hobbies, etc. It was founded in 2010 by web based entrepreneur Ben Silbermann.
The Pinterest site is used mostly by women. IPO Initial Public Offering is developing a presence on the Pinterest social media site so that women can learn more about the IPO process, IPO procedures and the steps a company must take when doing an IPO or initial public offering. IPO Initial Public Offering seeks to be the IPO guide for those who want to learn how an IPO works. IPO procedures and going public are areas most people know little about. The IPO site seeks to allow people to learn how to IPO.
Although still in its infant stages, many experts are quick to state that Pinterest is one of the "fastest growing social services in the world." Pinterest has quickly gained rank among the more prominent social media sites such as: Facebook and Twitter. As of February 2012 Pinterest has amassed a user base of nearly 17 million users.
Pinterest is one of the fastest growing social media sites. These are some of the reason why the initial public offering site wants to have a presence on Pinterest.
IPO is one of the industry front runners in providing private and startup companies services necessary to take companies public within the USA stock market, such markets like the NASDAQ, AMEX, Over The Counter Bulletin Board, NYSE, and The Pink Sheets.
A company that goes public can take advantage of the many benefits that present itself as a public company. Public companies are typically valued much higher than their private counterpart. One such benefit is that usually though not always being a public company can increase the overall value of the company. This can aid in the companies business ventures.
IPO – Initial Public Offerings is looking forward to supplying current information on all facets of the going public process to the Pinterest community. Any Pinterest users that wish to know more about the details about public companies and IPO's are encouraged to follow IPO on Pinterest to stay up to date with all the news and information within the Securities Law industry. If you would like additional information please press here
About Us:
Contact Person: Bill Truman
IPO Initial Public Offerings
We Take Companies Public Including Start Up Companies
Email: information (at) IPOinitialpublicofferings (dot) com
Website: www (dot) ipoinitialpublicofferings (dot) com
Tele: 310 888 1195