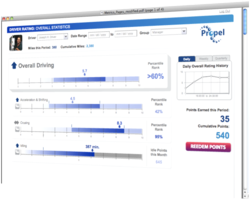 FuelOpps is an easily integrated application that addresses one of the top needs of the trucking industry.
San Diego, CA (PRWEB) July 12, 2012
Pittsburgh-based Propel IT, Inc., the maker of a proprietary fuel efficiency application called FuelOppsTM, announced today a new collaboration with Qualcomm Incorporated, a leading provider of integrated wireless systems, applications and services to transportation and logistics companies. FuelOpps now integrates with Qualcomm's Mobile Computing Platforms (MCPs) and leverages data from Qualcomm's Performance Monitoring application to give fleet managers and drivers a more accurate and easy-to-use view of their fuel efficiency. FuelOpps also has an optional driver incentive system, which rewards drivers for improving their efficiency rating.
"FuelOpps rates drivers based on the key factors that affect efficiency," said Yunsu Park, Propel IT's CTO. "FuelOpps gives all drivers in a fleet the ability to improve their rating and earn rewards, regardless of the age of the vehicle, load or climate conditions."
FuelOpps is now available to fleets using Qualcomm's MCP50, MCP100, MCP110 and MCP200, each of which delivers Qualcomm's industry-leading applications for fleet management. Fleets using Qualcomm's Performance Monitoring application with Fuel Manager, as well as FuelOpps, can create driver performance incentive programs that can lower turnover. The integrated solution also offers additional views of driver performance based on engine specifications, load types, geography and climate. Trucking companies have to ability to use both the ratings and rewards system, or integrate the ratings systems into their own internal incentive plan.
"By collaborating with best-in-class third-party providers, such as Propel IT, we continue to expand our fleet management offerings to address emerging customer requests and needs," said Norm Ellis, vice president of sales, services and marketing for Qualcomm Enterprise Services. "With fuel efficiency top of mind for fleet managers today, the availability of FuelOpps, as a complement to the fuel management benefits of our Performance Monitoring application, delivers helpful and actionable information to fleets to drive greater efficiency and streamline operations."
"We are 100 percent focused on helping trucking fleets cut fuel costs and motivate drivers," added Anthony Lacenere, CEO at Propel IT. "We are very pleased to be bringing our technology to Qualcomm's fleet customers. From smaller family-owned fleets to large national carriers, we are confident that FuelOpps will improve their bottom line."
For additional information on FuelOppsTM or to request a free fuel efficiency report on your fleet, please contact sales(at)propelit(dot)net or call Worth Archambault at 404 388 9309.
About Propel IT
Propel develops technology that uses operational data to improve results. We focus on ensuring that the information is useful, easy to understand, and on putting it in the hands of the people who can use it best. FuelOpps™ helps trucking fleets build and maintain a competitive advantage by providing driver behavior monitoring and management capabilities which engage the driver and fleet managers. The information helps drivers and front-line managers by focusing on the specific aspects of behavior that impact fuel efficiency.