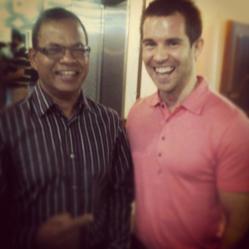 The key thing to remember is that Google want to place at the top of the search results the most relevant and high authority content, if your content sucks then so too will your search engine ranking
(PRWEB) July 13, 2012
James Reynolds, the CEO at Incredible Incorporated, an SEO company in Dubai, has met with the head of search at Google, Amit Singhal, who was in Dubai to deliver his presentation 'The Future of Search'. During their discussion, they conferred on not only how Google intends their search engine to evolve, but also on why Google views SEO (Search Engine Optimisation) agencies like the Incredible Incorporated group positively.
As an specialist in search engine marketing, Dubai-based James Reynolds was keen to know just what Google thinks of SEO companies such as his own. SEO agencies help businesses raise their online profile by enabling their websites to be picked up by Google and other search engines, aiming to place the business in the top 10 results for specific keywords that potential customers may be using in their searches. This means attempting to know as much as possible about Google's algorithms, their formulae for how they pick and order their results. SEO companies work hard to discover the secrets of these algorithms and to keep up to date. With Google working to find quality sites for its users, and SEO companies pushing hard to place their clients highest in the results, sometimes at the expense of a quality-content driven site, there is the potential for Google to not look kindly on SEO companies.
Perhaps surprisingly then, Amit Singhal, Google Fellow, disclosed that Google are mostly respectful of the work of SEO companies. He is aware that the best SEO companies have helped improve the quality of websites and helped well-written sites with good navigation and titles to be more easily found by Google. Superior SEO agencies recognise the need for a site with reliable, well-written content and aim to bring a good offline reputation online, just as Google aims for these sites to feature strongly in its lists. SEO agencies have also helped their clients link their sites to other respected sources. "When you help your website visitors find useful and relevant content that answers their queries, you not only serve your visitors but you give Google what they want too. The key thing to remember is that Google want to place at the top of the search results the most relevant and high authority content, if your content sucks then so too will your search engine ranking," said James Reynolds.
However, Amit Singhal was quick to add that Google has less respect for SEO agencies that have pushed boundaries and used poor quality content to manipulate search results. Google use rigorous testing to stamp these practices out so that they can return only quality content to their users. Speaking in relation to such agencies, James Reynolds said, "a significant majority of SEO companies outsource cheap $10 articles, auto spin them and then syndicate the articles via content farms to gain backlinks. Most of these operators trying to trick Google have gone out of business since the recent Penguin and Panda algorithm updates as Google became wise to these sneaky tactics and devalued them in the algorithm. Our SEO company, Dubai based SEO Sherpa, has always focused on quality hand-written content that delivers value and serves up a great experience for visitors. That's why our results stick and our clients' rankings typically improve as a result of Google's algorithm updates."
During the 'The Future of Search' presentation, it was revealed that Google intends to make its search engine more 'intelligent'. It ultimately wants to return results that are personalised to suit the user's needs, interests and geographical location according to Amit Singhal. Google also recently announced the introduction of the knowledge graph in the USA, designed to return information that is both related to the original search terms but to also make further suggestions for related sites that may also be of interest or of use. With these aims in mind, it is of paramount importance that SEO agencies and their clients focus on quality, well-written content with links to other strong content if they are to continue to win favour with Google.
About James Reynolds
James Reynolds is the CEO of Incredible Incorporated, a group of companies which include WebReactivators, SEO Sherpa, Incredible Fan Pages, Breakthrough HQ and Unlimited Power Online. He is an expert in helping entrepreneurs drive sales and increase the overall responsiveness and profitability of their online marketing. James has earned great respect in the field and is an experienced internet marketing speaker appearing at events worldwide and often in the media in Dubai, where he resides.