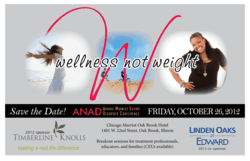 Oak Brook, Illinois (PRWEB) July 12, 2012
ANAD (National Association of Anorexia Nervosa and Associated Disorders, Inc.) in collaboration with BEDA (Binge Eating Disorder Association) will hold the 2012 annual midwest eating disorders conference at the Marriott Oakbrook. Clinical sessions are designed for eating disorder treatment providers and the general interest sessions are designed for clinicians, educators and families affected by eating disorders.
WHAT: 2012 ANAD Annual Midwest Eating Disorder Conference
WHEN: Friday, October 26, 2012
TIME: 8:00am - 4:30pm
WHERE: Marriott Oak Brook, 1401 West 22nd Street, Oak Brook, IL
KEYNOTES & WORKSHOPS:
This year's keynote speaker is Kelly G. Wilson, PhD, Associate Professor of Psychology at the University of Mississippi. He is one of the co-developers of Acceptance and Commitment Therapy (ACT), and has devoted himself to the development and dissemination of ACT and its underlying theory and philosophy for the past 20 years.
The conference will also feature workshops led by 16 additional clinicians and professionals from across the country. 4 session will be offered, with 4 breakouts at each session. The conference will offer 6 Continuing Education Credits.
For workshop details conference speakers .
Thank You to Our Sponsors!
2012 Sponsor: Timberline Knolls
2012 Co-Sponsor: Linden Oaks at Edward
ANAD, headquarted in Naperville, Illinois, is a 24 hour eating disorders resource for those seeking, struggling or caring about professional treatment. Our website offers the name of qualified treatment providers. The ANAD helpline has been a trusted source for education, encouragement, and personal referral to treatment providers for 35 years.
For info Visit http://www.anad.org or ANADhelp(at)anad(dot)org
Contacts:
ANAD 630-577-1330
Donna Rostamian, Community Organizational Manager – Donna.Rostamian(at)anad(dot)org