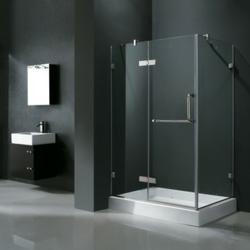 Our brand and product positioning is the perfect complement to these great home improvement programs.
Edison, NJ (PRWEB) July 12, 2012
Vigo Industries, manufacturer of modern kitchen and bath products, is proud to announce their new product placement agreements with targeted home improvement production companies of the DIY and HGTV television networks. The move comes on the heels of VIGO's new "High Design for Every Home" slogan and branding campaign, launched in May 2012.
In June, VIGO made its latest national television appearance, this time on DIY Network's Bath Crashers, produced by Big Table Media. The program transforms old, outdated bathrooms into brand new modern and functional living spaces. The show is produced similarly to the network's popular House Crashers and Yard Crashers series. On the episode, titled "Too Many Toilets", VIGO provided and showcased their high-end plumbing products such as their popular frameless Shower Enclosure, Shower Base, Shower Panel, Double Vanity Set, and Faucets to the homeowners' bathroom renovation.
Upcoming agreements have been made with Magnetic Productions, producers of DIY's I Hate My Bath, I Hate My Kitchen, and HGTV's Design on a Dime. Future episodes will feature various high-end VIGO products for kitchens and bathroom renovation projects for the subject homeowners. Discussions with other production houses are in the pipeline.
Richard Caplan, Director of Marketing at Vigo Industries, explains "VIGO is the ideal brand to partner with these fantastic home improvement production houses, like Magnetic. Our products are beautiful, durable, competitively priced, and can be found at many major internet retailers. When the viewer likes what they see on the program, they can log online and effortlessly find their own desired VIGO products. Our brand and product positioning is the perfect complement to these great home improvement programs."
In just a few short years, Vigo Industries has created a modern home improvement success story by becoming one of the fastest growing kitchen and bath product companies in the country. Vigo Industries manufactures and distributes contemporary plumbing products such as kitchen faucets, kitchen sinks, frameless shower doors and enclosures, vanity sets, vessel bowls, and bathroom faucets. Vigo Industries is a proud industry partner of the National Kitchen and Bath Association (NKBA), American Society of Interior Designers (ASID), and the Decorative Plumbing and Hardware Association (DPHA). VIGO brand products can be found nationwide at online major retailers as well as at over 300 independent showrooms and dealers.