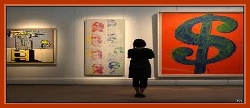 "The growth of online galleries has enabled artists and photographers to sell their artwork worldwide, twenty four hours a day to all types of buyers." Tuck Tucker, Agency Director
Sarasota, FL (PRWEB) July 12, 2012
The Art Marketing Agency unveiled several online art gallery marketing innovations to help meet the challenges in today's art market.
The leading art marketing agency will match artwork to the best performing online gallery and its buyers. Clients can now successfully showcase their art and "connect" to art buyers using worldwide online art galleries twenty four hours a day.
"Being good in business is the most fascinating kind of art. Making money is art and working is art and good business is the best art."-Andy Warhol
Its a fact, online galleries are good for today's art business. There are more than two hundred worldwide online galleries with an influence that now plays a significant role in the success for any artist or art collector.
In the past, artists have invested their valuable time and money attempting to find the "right" online galleries to sell their work without much success.
The new service is designed to enable artists to "optimize" their marketing while effectively reaching the best art buyers at online galleries to showcase their work.
"We recognized that success in selling art online means knowing exactly what online galleries and their buyers are the best fit for specific styles, medium. Our services are specifically designed to match the characteristics of the online gallery, and its audience, with the artwork," observed Tuck Tucker Agency Director at the Art Marketing Agency, Sarasota, Fl. (http://www.BestArtMarketing.com)
The Agency also announced it will now offer its valuable printed directory (and E Book) about online galleries that analyses characteristics and provides information about hundreds of galleries to its subscribers. The Guide assists art professionals to meet the challenges of today's international art market with important information about each gallery.
The Art Marketing Agency services enables artists,photographers and art collectors to work with an expert,objective team that will provide a portfolio and website review with an informative consultation. The agency then develops specific marketing plans to match the artist style and vision with the right online gallery.
The agency also provides a written summary that includes information about what "specific" online galleries to match their artwork, ideas about how to "optimize" their art marketing, a review of your pricing structure for the artwork, even setting up the client artwork in the online gallery salon.
From Karen T. in Arlington, Virginia, photographer: "The agency suggested I shift from 2 pay galleries to 5 non-pay and I am making more sales and saving money. What I liked is that their services are turnkey- they really did all the work to set me up with the online galleries after the consultation. Thanks Art Marketing for making my life and art marketing a lot more successful."
Ron W. Miami FL, Fine Artist Portraiture, remarked about the new services: "I was looking for a better way to sell my art.It was just too time-consuming and frustrating to know what online galleries to work with. The team at the agency have given me better online sales options. I recommend them."
The artist or art collector may choose one of several consultation plans ($50 to $150) to review all aspects of their artwork including their website and marketing ideas.
A valuable written summary and recommendations is provided to all clients.
Novice and beginner photographers may also put their family and travel photos to work.
The agency will post a limited number of their photos from fifteen to twenty five dollars and may include a website. Novice photograph program details are available the http://www.theArtmarketingAgency.com
"Amateur and novice photoraphers may be sitting on a gold mine,"observed,Tucker
For more details about the new service: please Contact:Tuck Tucker: Agency Director at:239 250 4920
email: ArtPromotionServices(at)gmail(dot)com - Sarasota, Florida USA or BestArtmarketing(at)gmail(dot)com