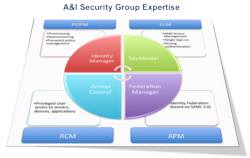 Trust me, it is fun!!! - Sesha Palakodety
Atlanta, GA (PRWEB) July 11, 2012
As a consultant on the A&I Security team, Sesha Palakodety has hands-on experience in all aspects of SDLC, with Identity and Access Management as the primary subject area of expertise. He specializes in Identity Federation Solution Design, High Performance Web Application Development, and IT Security Analysis. In addition, he has solid experience in working with leading Identity Federation Solutions like ADFS 2.0, Novell Access Manager 3.1, and PingIdentity.
Since becoming a member of the A&I team, Sesha has been involved and has exhibited exceptional work in several security activities. He has proven his ability in development of custom Identity Federation Solutions using Microsoft WIF SDK based upon standard industry protocols. Furthermore, he has extensive programming expertise in developing web-based applications using .NET technologies and has an immense passion for developing mobile applications for iOS and Android.
Sesha explains, "I have always wanted to work for an organization that provided a platform to enhance my skill set. Since I have a strong security background, A&I provides me the opportunity to work on several products including SiteMinder, Identity Manager, SOA Security Manager, Access Control. Also, I am involved in application development, web designing, blogging, webcasts etc. Trust me, it is fun!!! One of the best things I like about A&I is that activities do not allow employees to confine themselves to a specific area. In doing this, A&I expands competencies to the fullest potential."
Since joining A&I Solutions eight months ago, Sesha has done some outstanding work for MetLife Life Insurance, Harris Corporation, and C&S Wholesale Grocers. Sesha has added great value to the security team and A&I Solutions' overall reputation.
Success Story:
"Recently, I had the opportunity to work on a SiteMinder FSS Implementation project at C&S Wholesale Grocers in New Hampshire. When I was initially pulled into the project, there were several issues that the team was encountering and with deadlines fast approaching, the pressure on the team members was at its peak. Fortunately, the client was very understanding and provided us with all we needed. At the same time, I received immense support from my internal team and as a result, we were able to execute the project successfully and on time. Although this engagement was short-term, it gave me the utmost satisfaction." –Sesha Palakdety.
Recommendation:
"Sesha is a detail-oriented Security and Identity Management consultant. His expertise in Identity and Access Management solutions (Site Minder, FSS, customization of tasks, interface screens etc.) helped us in setting up our environment on-time."
-Ravindra Vummadi at C&S Wholesale Grocers
Sesha will be hosting two upcoming webinars in July:
Register Here! Learn Identity Federation process flow and terms by tuning into "Protection of information between businesses through Identity Federation"
Register Here! Learn how to reduce security complexities by tuning into "Extending Federation to SharePoint Applications"
About A&I's Security
A&I Security Group is a Premier Direct Managed Partner and Service Provider of CA security, risk and compliance solutions to meet the unique security challenges. A&I is committed to providing secure solutions adhering to industry standard security practices. The team has a broad skill set including Identity Manager, Federation Manager, SiteMinder, Access Control, Privileged User Password Management, Enterprise Log Management, Risk and Compliance Management, SOA Security Manager.
The team will apply best in class standards in defining, designing and implementing the appropriate middleware solution that is cost-effective, highly available, fault-tolerant and scalable that meets the business needs. We will work with you to deploy solutions, specifically technologies that manage the integration of identity data from multiple authoritative sources, user authentication and authorization, user account provisioning and de-provisioning, roles definition and assignment, privileged user access to resources like applications, servers & devices, externalized authentication through federation, and delegated administration of these functions.
About A&I Solutions
A&I Solutions is North America's premier provider of integrated enterprise solutions, dedicated to implementing solutions from CA technologies. A&I Solutions provides enterprise products and services to help companies achieve the highest level of performance. We focus on the best rated products and extensive experience to deliver comprehensive integrated Enterprise Solutions. Working with enterprise management, resource planning, service assurance, security and infrastructure monitoring, A&I helps organizations achieve their full potential by driving consistency and maximizing efficiency. Our proven methodologies, innovative best practices and deep technical experience produce better business results for our Customers. A&I has expertise across all IT environments - physical, distributed, cloud, virtual and heterogeneous platforms. We specialize in the following: CA Security Suite, CA Clarity, CA Wily - Introscope, CEM, SOI, NetQoS, Reporting - Business Objects, Crystal Reports, Actuate Reporting, Enterprise Integrations.
For more information please visit http://www.anisolutions.com.