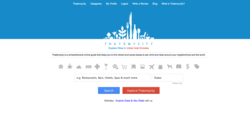 Built like a Wiki site, Thatsmycity, is a fast and easy to use search engine, helping its users browse and find almost everything they may wish to know about their neighborhood, city and the world.
Dubai, London, Auckland (PRWEB) July 11, 2012
Thatsmycity serves as an ultimate search engine for places, that instantly and conveniently showcases all of the relevant places, services, features and content with a blink of an eye. Built like a Wiki site, Thatsmycity, is a fast and easy to use search engine that helps its users browse and find almost everything they may wish to know about their city and the world.
Thatsmycity, like Google aims to organize the relevant information and make it accessible to its users. The site is free to use and helps its users find brilliant insights and up-to-date local knowledge on; restaurants, pubs and bars, things-to-do, reviews, maps, ratings and personal experiences of all the places and things they love in their area and the world! Thatsmycity also helps people find the right reviews written by local community so that they know about a place before they even get there.
Thatsmycity further takes pride in being a website that connects the cities and helps people explore the best (and avoid the worst) places in their neighborhood, city and the world. The site at this point, claims to have over 2,00,000 places listed on the site and believes that this number would reach 1 million places by the first quarter of the next year (2013).
Thatsmycity is easy to use. Quick Links make it easy for users to navigate. Not only that but Thatsmycity team is supposedly working hard on it's search indexing, trying to make it as close as possible to a search engine. Indexing all the detailed information is the key to helping its users find the right place. Soon Users will be able to type in almost anything to search for their favorite places. Area Names, Name of the places their category and also users will be able to search with Ambiance or whether the place is good for kids or not.
Thatsmycity team is also reportedly working on over 5000 Menus to convert them into Digital/ HTML format to make their search even more powerful. This means that users can not only search by places and areas but also with the kind of food they would like to eat. For example, Indian community may find it easy to look for specific curries or Britishers & Kiwis might find it easy which is the place they can find the best Fish and Chips from.
Making the searching process easier and even more convenient for its users, Thatsmycity displays relevant results (results the users are actually interested in) and uncluttered and easy to read interface. From the less visited and underexposed places, to the fantastic restaurants, bars, nightclubs, hotels, spas and many other well-known destinations and fun filled must-see spots, Thatsmycity helps people conveniently find out all shades of the countries it has been launched in.
In essence, Thatsmycity Search Engine will take its users on an informative and exciting journey of exploring its exclusive features and content. http://www.thatsmycity.com is not just another site for places, but is a distinguished and comprehensive online Search Engine where everyone is sure to find something of their interest!