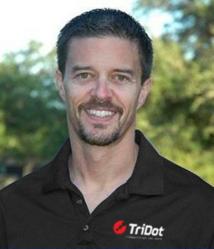 "[until now] there has never been a methodical, data-driven system that truly leverages the power of technology to deliver individualized highly effective training programs..."
Dallas, TX (PRWEB) July 11, 2012
TriDot has expanded its services with eight elite triathlon coaches that utilize the innovative, technology-based triathlon coaching system to serve the increasing number of athletes being attracted to the sport of triathlon, the fastest growing sport in the US. TriDot is the first triathlon coaching system that leverages technology to allow it to serve a large number of triathletes without sacrificing quality.
"Currently in the sport, many triathletes don't perceive much value in triathlon coaching at all," says Jeff Booher, developer of the TriDot System, "Fewer than 30% of triathletes are coached...not because they can't afford it, but because they can't find the solution or results they need. Technology has made communication with coaches easy via the Internet, but there has never been a methodical, data-driven system that truly leverages the power of technology to deliver individualized highly effective training programs...as opposed to relying on guesswork."
Using an array of complex algorithms developed from data on literally thousands of triathlon training periods systematically designed, tracked, and completed by athletes fitting every profile imaginable, the TriDot System generates training programs specific to an athlete's training background, experience, age, race distance, body composition, overall goals, and much more.
TriDot System solves the technological side of coaching, which can consume over 80% of a coach's time. TriDot allows coaches to focus on the thing that only human coaches can do, which is motivate and inspire their athletes through interpersonal interaction over email, phone, and in person. As a result of the technological breakthrough of the TriDot System, each coach is able to deliver high-quality coaching to their athletes at a fraction of the price of regular elite-level coaching.
The TriDot System has attracted top-level coaching experience to its staff. Founder and Head Coach, Jeff Booher, has coached a number of professional triathletes to podium finishes. Coach Darrick Walls heads a USA Triathlon Junior High Performance Team focusing on Olympic-style, draft-legal racing and has more than 20 years of triathlon racing and coaching experience. Coaches Nick Waninger, Kirk Nelson, and Natasha van der Merwe are veteran professional triathletes and World Championship Qualifiers. Coaches Michael Butler, Kevin Mills, and Elaine Griffin are age-group elite triathletes and USAT-certified coaches who round out the TriDot coaching staff.
ABOUT TRIDOT
The TriDot® System is a one-of-a-kind, patents-pending triathlon training and racing system developed based on extensive and ongoing primary research since 2004. The TriDot® System's Intelligent Design Process (IDP) is a data-driven process that produces optimized training programs built for each athlete that deliver maximum results per training hour invested (Result: more performance gains and/or less training time). Serving beginners to professionals, the TriDot® System takes the guesswork out of triathlon training and racing.
This Press release was created and distributed on behalf of TriDot by Prism Communications Inc. Prism Communications is a full service internet marketing company that cuts through the myriad of internet marketing tactics and develops a coherent strategy for companies looking to grow their online presence. To learn more about Prism Communications, or to contact them for a free consultation for internet marketing solutions, email them at sam(at)prism-communications(dot)com or call them at 917.319.2229.