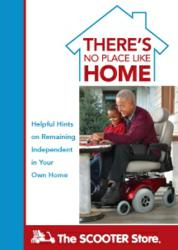 "The information in this booklet is a good starting point for things to consider when you desire to remain independent in your own home." - Robert Berger, Chief Marketing Officer
New Braunfels, TX (PRWEB) July 11, 2012
The SCOOTER Store, located in New Braunfels, TX, was founded in 1991 and has become America's leading provider of power mobility solutions. The company's priority is helping seniors maintain their independence, so that they may remain in the comfort of their own homes. To help achieve this goal,The SCOOTER Store has put together "There's No Place Like Home,"–a 24-page, complimentary booklet with helpful hints on remaining independent in your own home.
Over the years,The SCOOTER Store has realized that many seniors have similar concerns about retaining their independence. The company's new booklet was designed to help address these frequently asked questions. "The information in this booklet is a good starting point for things to consider when you desire to remain independent in your own home," said Robert Berger, a company representative.
The booklet includes such topics as:

How to find helping hands in your own neighborhood
Caregiver options
Addressing common questions regarding transportation
Tips on how to keep your home in good condition
Making your home safer and easier to get around in.
Alerts and alarm systems
In addition to the information found in "There's No Place Like Home," The SCOOTER Store has also included a list of on- and offline resources for seniors looking for further information on independence. These additional resources address several relevant issues and concerns many seniors face every day.
An "Aging in America" study found that 89% of seniors want to age in place–which is to say, in their own homes. Fear of losing their independence is one of the top reasons many seniors choose not to move into nursing homes. Seniors are encouraged to visit http://www.scooterbooklet.com to request a copy of the booklet.
About the company:
Since 1991, The SCOOTER Store has helped provide freedom and independence to more people with limited mobility than any other company in the nation. The company offers power mobility solutions, including power wheelchairs, scooters, lifts, ramps, and accessories, which are available in 48 states. The company also provides Home Care products and services in some locations. Using these solutions provides today's seniors an alternative to living in nursing homes or other care facilities. The company's goal is to create an opportunity for every senior or disabled American to live their entire life safely and confidently at home. The SCOOTER Store was recently recognized by FORTUNE magazine in its prestigious "100 Best Places to Work for in America" for the second time. The company is accredited by the Accreditation Commission for Health Care. For more information, visit http://www.thescooterstore.com.