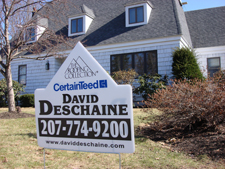 Keep Out The Rain - Call Dave Deschaine
South Portland , ME (PRWEB) July 11, 2012
David Deschaine Roofing, a leading roofing contractor in Southern Maine, recently announced that it has launched two new David Deschaine Roofing websites in an effort to provide comprehensive information about its products and services using an online platform. At http://www.bestroofingmaine.com and http://www.newroofingmaine.com, customers have full access to photos and video of previous David Deschaine Roofing projects, David's roofing blog and customer testimonials and a form to request a free estimate.
On the new websites, customers can also read more about the products and services that the company offers. David Deschaine Roofing offers roof installation, roofing repair, and roofing replacement in Southern Maine, including the Portland, Brunswick, Yarmouth, Freeport, Kennebunk, and Ogunquit areas. The roofing company also installs insulated vinyl siding and energy saving windows. They provide snow removal services, roof cleaning, roof inspections and numerous other home exterior products and services.
In addition to the new websites, David Deschaine Roofing is now utilizing social media to get the word out about its roofing services. "I've included two mobile websites as part of my online offerings," said David Deschaine. "I've also created a YouTube channel, Facebook fan pages, and Google plus circles to help local customers find my postings about current specials or company events that may be happening in the future."
Homeowners can also now schedule their appointments online, a convenient service for anyone who wants to schedule an appointment using a smart phone, iPad, a tablet or a computer. For complete information about the David Deschaine Roofing websites and all of the products and services that the company offers, visit one of its websites, its Facebook page or call (207) 774-9300.
About the company:
David Deschaine Roofing and Vinyl Siding Company has been offering professional and trusted home improvement services for over 25 years. With thousands of satisfied customers throughout Southern and Central Maine, David Deschaine has the most trusted and recognizable name in the industry. Servicing ME, Portland and Lewiston-Auburn areas. His company offers 5 Star Coverage to customers, and with 25 years experience there is a benefit of a Workmanship warranty. For more information visit their website at http://www.daviddeschaine.com.