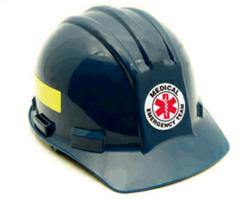 "In an emergency, it is vital that roles are clearly defined and instantly communicated," said Daniel Male, Manager of MyHardHatStickers.com. "The Star of Life Decals can go a long way in saving lives."
Brooklyn, New York (PRWEB) July 12, 2012
MyHardHatStickers.com, the premier supplier of custom hard hat stickers and helmet decals, is issuing a new line of Star of Life Hard Hat Decals. These decals identify medical and emergency response workers in crisis situations.
In an emergency, every second counts. According to usatoday.com, more than 1,000 lives that could be saved are lost each year in the nation's biggest cities because of inefficiencies in the cities' emergency medical systems. Precious time is already lost when calls are dispatched or as crews park and try to find the victims, and the seconds spent searching for EMTs could be devoted to saving lives. MyHardHatStickers provides the Star of Life Hard Hat Decals to make saving lives as efficient as possible.
The new Star of Life decals are reflective to ensure visibility in nighttime or far distances. The Emergency Medical Technician logos have the text "Emergency Medical Technician," "Emergency Response Team," or "EMS Command." Decals point out EMT Firefighters, Paramedics, or Medical Officers. EMS Title Stickers are excellent ways of organizing EMS teams. The stickers list the titles or aides that apply in an emergency system, such as "air supply canisters" or "first aid kits."
MyHardHatStickers utilized the utmost care in the composition of these decals. The labels are made from outdoor grade durable vinyl and withstand weather, abuse, and abrasion. These labels, comprised of thin, 3mil material contain a high performance adhesive to stick to clean surfaces and also conform to curves well. MyHardHatStickers' labels can be repositioned easily and removed cleanly.
Custom Star of Life Stickers enable emergency workers to personalize decals and maintain a sense of team unity. The custom text wizard allows users to easily insert text on the top and bottom rings, tweak font, or customize labels. "In an emergency, it is vital that roles are clearly defined and instantly communicated," said Daniel Male, Manager of MyHardHatStickers.com. "Though the Star of Life Decals are small and compact, they can go a long way in saving lives."
For more information, visit http://www.myhardhatstickers.com/HH/Medical-Emergency-Workers-Star-of-Life.aspx
About MyHardStickers
MyHardStickers offers a huge variety of decals to promote messages. The materials are made with 3M and specifically designed to avoid wrinkling. The labels are easy to customize with a logo or special emergency numbers.
About SmartSign
SmartSign is one of America's fastest growing e-commerce companies and parent of MyHardHatStickers.com, MyParkingSign.com, as well as more than 50 other sites. The company manufactures and distributes a wide range of signs, tags, mats, and labels. In the past, many consumers have found it hard to find, hard to design and hard to order signs with the right message. By positioning "signs as solutions," SmartSign has taken an entirely different approach. Through highly targeted, content-rich, and authoritative retail sites, the company provides specific solutions to specific problems, such as customizing a hard hat sticker. SmartSign is widely recognized for its quality construction; its signs come with a 3M® warranty and outlast fast-fading, ink-jet signs. Other SmartSign advantages include fast and free shipping, the Web's largest range of designs, and a best-price guarantee.