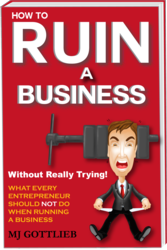 While we can't tell people what to do and how to run their businesses, what we can do is show them the most common and prevalent mistakes that businesses make so they know what to avoid.
New York, NY (PRWEB) July 31, 2012
MJ Gottlieb has just made his highly anticipated book, "How To Ruin A Business Without Really Trying" available for pre-release exclusively at the N2ITIV SOLUTIONS website.
Every day, thousands of people begin the wonderful journey of starting their own business, only to find out later that the journey was not so wonderful after all. They come in young, bright eyed, and eager to conquer the world with the idealistic dream of being the next 'Microsoft' of their particular industry only to come out feeling old, tired, and frustrated, realizing that they were ill-prepared for the journey from the start.
So why is it that nine out of every ten businesses fail? And what precious bit of knowledge does that one business out of every ten have that enables it to succeed? While there is no single answer to this question, as there are as many answers to this question as there are businesses, there is one veritable truth that every aspiring entrepreneur needs to know: while anyone can start a business, very few ever figure out a way to make money in the process. For every successful person that you see, what you don't see is the trail of bankruptcies, failed partnerships, and pricey mistakes that made them who they are today. Does that mean every entrepreneur has to go through the same horrors, heartaches and pain? Is there any way to avoid this? Well, one way is to learn from the experiences of others.
MJ Gottlieb's "How To Ruin A Business Without Really Trying" is a highly animated, layman's terms business book containing fifty-five painstaking, yet hysterical tales from MJ's journey as an entrepreneur. It is written as a simple- yet practical- guide for aspiring entrepreneurs, putting each story in the form of a 'case study', explaining both the crime committed ('The Wrong') and the lesson learned ('The Right').
The book is split into two sections: Part One; 'My Most Infamous Screw-Ups', contains thirty-nine short stories starting with the top five "Do Not's and Never Ever Evers" when starting a business. Part Two; 'More Case Studies and Some other Things I Learned Along the Way' includes sixteen more short stories focusing specifically on the subject of pursuing capital.
The book is one of very few that concentrates on what "not" to do as its method of teaching. Gottlieb takes this approach as he has found that most entrepreneurs simply do not like to be told what to do, and that learning what 'not' to do simply makes a lot more sense! When people make the decision to enter their journey as entrepreneurs they have already decided to cut the chains from what is traditional, what is conventional, and what is expected. They don't want to be told what to do because entrepreneurs want to forge their own paths!
By reversing the way traditional people learn and teaching them to learn from the mistakes of others, it takes the ego out of the equation so entrepreneurs can take their guards down and learn objectively, while still allowing them to enjoy the freedom of their own experience. So entrepreneurs need to enjoy that experience, forge their own paths, and just take some time to look at what people are doing wrong in business, as it will greatly increase their chances of doing it right!
Gottlieb has received many testimonials for the book from numerous business leaders such as Daymond John, Co-Host of ABC's hit reality show 'Shark Tank', Marvin Eisenstadt, Chairman of 'Sweet 'n Low', as well as many others that you can find on the N2ITIV SOLUTIONS website.
N2ITIV SOLUTIONS is a strategic consulting firm specializing in the implementation of creative business strategies to help aspiring entrepreneurs and small businesses increase their brand awareness and monetize their businesses online. For more information please contact us at http://www.n2itivsolutions.com