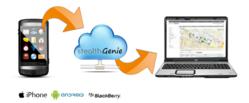 Only Cell phone tracker to support Android OS 4.0 (Ice Cream Sandwich)
(PRWEB) July 12, 2012
Cell phone monitoring app developers StealthGenie have made another announcement that has taken the app world by storm. The announcement of compatibility with Android's latest OS (4.0) is yet another step by the company to deliver the latest in cell phone tracking technology.
No other cell phone tracker currently offers compatibility with Android Ice Cream Sandwich and we asked the developers at StealthGenie why that was the case. According to Martin Krajnak, the head of development at StealthGenie, "Android 4.0 is a very advanced piece of operating software. It's not easy to get through and making a cell phone tracking app work on it is an achievement we are very proud of. The reason other mobile phone monitoring applications haven't been able to break the code yet is because I believe I have the most hardworking and talented team of developers."
While the developers are understandably chuffed with their achievement, the marketing department loves the fact that they have something major to work with. We spoke to Amanda Wade, the marketing manager when she said, "The cell phone tracker market is a tricky one to work with. It is not every day that you achieve something of this magnitude and the fact that we were the first to get there means we have the total confidence to go ahead and market our product as the best in the market. We are giving customers something no one else is. That, by definition, makes us the best."
StealthGenie's record of bringing out the latest features and technologies in their cell phone tracking app has been consistent in the past few years as they have been announcing a number of features that no other app developer has been able to introduce yet. Prior to Android Ice Cream Sandwich compatibility being announced, features like instant SMS/email alerts, remote control functionality on the online interface and compatibility with iOS 5 were some of the hallmarks StealthGenie was able to achieve before anyone else did.
The developers at StealthGenie promise to keep innovating and coming up with the latest in cell phone tracking technology. We'll keep you posted on any updates and hallmarks the company manages to achieve.
StealthGenie is a cell phone tracking app that can be installed into any Blackberry, Android or Apple iPhone where it works secretly to provide the user with monitoring data of the targeted phone. It is used mainly by parents to keep an eye on their children while a large number of employers use the app to monitor their employee's work phones. For more information, you can go to http://www.stealthgenie.com.