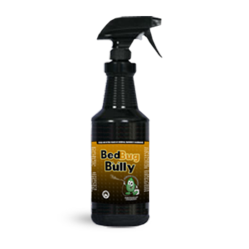 ...the use of the product[Bed Bug Bully] does not cause allergies or any breathing difficulty.
Cincinnati, OH (PRWEB) July 13, 2012
Bed Bug Bully ingredients are safe. And for that, GreenBeanBuddy recommends the use of it to the public, especially during summer when bed bug infestation risk is at highest.
The infestation of bed bugs can actually happen any time of the year. However, their activities peak during summer, said a study by bedbugcentral.com And to help the public protect themselves safely from the pests and all the problems that they can give, GreenBeanBuddy said that they could use a non-toxic bed bug spray.
According to the study, records of bed bug cases from January 2008 to April 2012 showed that the pests are more active during the months of July, August and September. It said that the rise in the number of bed bug infestation could be a result of the increase in the pests' reproduction.
At 64 degrees Fahrenheit, bed bug eggs can develop to adulthood in 66 days. However, the study detailed that the number of days of their development decreases to 14 at 82 degrees Fahrenheit.
Below's a part of the post by GreenBeanBuddy about Bed Bug Cases Peak at Summer.
"Summer has started. And apart from heat waves and wildfires, the extremely hot summer season this year brought with it another problem – bed bugs. Small as they are, they can actually cause a lot of troubles. And with the high temperature favoring their spread and population, they are sure to be more pesky than they are already.
According to a report by Bed Bug Central, studies have shown that high temperature speeds up the maturation of bed bugs. From 66 days at 64 degrees F, bed bugs can turn to adult in just 14 days at 82 degrees F. And with summer being the warmest part of the year, it follows that July, August and September are the peak months for bed bug activities. "
The surge in travel in addition to the increase in their reproduction makes summer the bed bugs' season, said GreenBeanBuddy. And with them spreading fast and wide during summer months, the site stated that the public must take steps to prevent their presence. It added that everyone must also prepare a bed bug spray.
However, of the many bed bug products available, it only recommended the use of Optimal Chemical's Bed Bug Bully. It reasoned that Bed Bug Bully ingredients are truly safe. Hence, the use of the product does not cause allergies or any breathing difficulty.
For more bed-bug-related news, visit GreenBeanBuddy.com.