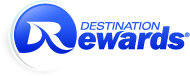 As the consumer becomes better equipped with mobile technology, the loyalty industry will follow suit.
Boca Raton, Florida (PRWEB) July 17, 2012
Destination Rewards®, provider of customer loyalty, incentive and engagement solutions, announced today their top three predictions for the future of customer loyalty programs.
Pioneered by airlines and hotels, nearly all industries are now offering loyalty programs to customers via discounts on future purchases, in hope of finding repeat business, building loyalty and increasing customer retention.
Today, competition is heavy in the loyalty space with many businesses trying similar tactics. "It's no longer enough to offer customers points, miles or virtual currency—they can get those anywhere, and they don't see any value in having to wait weeks, months or sometimes years to use them," said Destination Rewards Co-Founder and Senior Vice President of Business and Product Development, David Shaw. "Today's customers demand more, because in the ever-expanding, global marketplace, they have plenty of options when it comes to where and how they spend their money."
Gamification
Shaw suggests gamification in loyalty programs will move beyond online games and sweepstakes and we'll begin seeing more high-engagement activities like auctions. He says gamification will shift the loyalty industry into a customer engagement industry.
Mobile Platforms
Many loyalty programs are already seeing a boom in mobile platform capabilities with loyalty card aggregators and digital wallets popping up everywhere. Statistics show the mobile landscape will double in the next two years in terms of usage. "As the consumer becomes better equipped with mobile technology, the loyalty industry will follow suit. More and more mobile applications for smart phones and tablets will continue to be developed," said Shaw.
Data-Driven Marketing Integration
In order to create an ongoing relationship with customers, businesses will need to better integrate their loyalty programs into their other on-going marketing efforts. "It's a difficult task to harness the power of communication relevancy," said Shaw. "Businesses will need to better understand the data gleaned from their customer base via purchases, store visits, and online interactions, and apply these learnings across multiple marketing channels, including their loyalty programs." Shaw suggests the stand-alone loyalty program will become a thing of the past.
About Destination Rewards®
Destination Rewards® is the industry's most innovative provider of zero liability rewards programs, specializing in loyalty, incentive and engagement solutions. Since inception in 2001, Destination Rewards has helped some of the world's most successful brands, such as Experian, Citigroup and Humana, drive customer retention and influence behaviors at a fraction of the cost of traditional loyalty and incentive programs. They offer superior technology on a patented, customizable platform that includes a robust array of travel, merchandise, gift cards, premium local coupons, daily deals, auctions, sweepstakes, games and much more. Destination Rewards is a privately owned company headquartered in Boca Raton, Florida. For more information please visit destinationrewards.com.