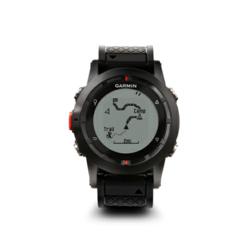 As has been the case with so many GPS products they find their way into increasingly diverse applications
Bozeman, MT (PRWEB) July 10, 2012
The Garmin fenix GPS watch was announced today and it is certainly Garmin's response to the very popular Suunto Ambit GPS according to the Heart Rate Watch Company. Both watches navigate, have barometric altimeters, can do heart rate and perform a wide variety of both navigation and athletic functions.
A base Suunto Ambit costs $500 where the Garmin fenix rings the register at $399.99, so the fenix holds a $100 price advantage to the Ambit. "It is going to be an interesting battle for 4th quarter sales between these two watches" says Rusty Squire, President of the Heart Rate Watch Company. He adds, "We'll have our world-class mountaineering tester John Yarington do extensive testing on this just as he has with the Ambit".
The Garmin fenix offers up to 1,000 way points and 50,000 markers for navigating, plus it produces real maps right on the watch face. The fenix can also be combined with a Garmin heart rate monitor strap or a cycling cadence sensor to make the device more useful for fitness enthusiasts. "At its heart rate soul the Garmin fenix really looks like it can take the place of a handheld GPS and go right on your wrist, which is pretty darn convenient if you need to stay hands-free", says Squire.
OTHER SPORTS HERE WE COME - THINK OUTSIDE THE BOX
For alpine skiers, Nordic skiers, backpackers, runners and cyclists this watch appears to be a good fit. "But wait a minute this watch could be used by snowmobiles, ATV riders, hunters and anyone in the back country because if you are off the beaten path then this watch is a easy to use", says Squire. He adds, "As has been the case with so many GPS products they find their way into increasingly diverse applications".
The Garmin fenix is waterproof to 50 meters (164 feet) and can also function quite brilliantly as an everyday watch thanks to its chronograph, alarms, multiple time zones and other features, but where it really shines is off the beaten path.
GARMIN MAP QUALITY
Garmin is well known as the worldwide leader in GPS and the map quality of Garmin Connect Software and other Garmin software is a very well known quantity by many outdoor athletes, boaters, pilots and others.
The fenix will be available in retail stores, like the Heart Rate Watch Company, beginning in September of 2012. "But, you might want to advance order it because as we saw with the Suunto Ambit in May it completely sold out for 3 months following initial production", says Squire. GPS adventure watches that navigate are hot right now.